I know lots of homeschool families opt to do school on a year-round basis. I find myself in need of a break most summers and especially this summer after enduring a mess of medical appointments and hospital stays last winter. Even though Lauren's officially on summer break, I've been sneaking in some academic work here and there.
One of her favorite things we're doing this summer is drawing lessons with
ArtAchieve
. We've been steadily working our way through the
Entire Level 1
lessons.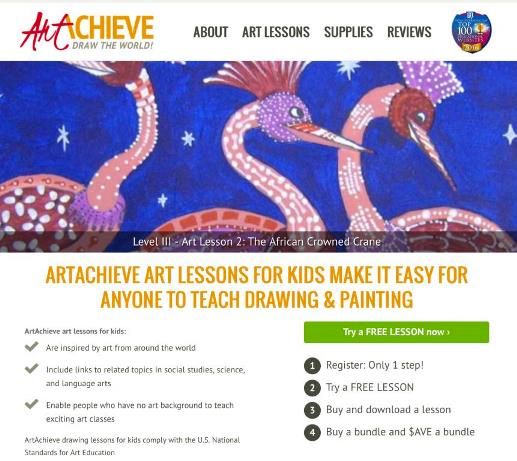 Our ArtAchieve lessons consist of printouts to download and either a Power Point presentation or video lessons to watch online. Each lesson also includes ideas for expanding the topic to include other subjects such as social studies, science, and literature (with recommended books for further study).
One thing I appreciate about ArtAchieve is that Lauren and I could get started without me having to make a trip to the store for special supplies. Even when I don't plan ahead, it only takes me a few minutes to print off the lesson materials and gather the necessary supplies. The first lessons only required us to have white paper (stolen from our printer), black sharpies, and a set of regular markers.
One of the later lessons required black paper and oil pastels. I was the unprepared mom that didn't plan ahead, but Tim and Lauren were able to make the project work with what we had. I would like to get some oil pastels to work with another time, though.
Lauren and I worked together when she did the first two lessons -- partly because I wanted to see what the lessons were like and partly because I was worried that Lauren wouldn't pay attention to the instruction. She did so well listening and following the instructions that she did this picture all on her own:
One thing I really like about this program is the philosophy of drawing and creating art. Every lesson includes a reminder that there is no wrong way to do art. "Every person's drawing will be different because we are all different people." Students are also encouraged to think of lines that they don't like as opportunities to make their work better and not as mistakes. (Since we were drawing with black Sharpie markers, we couldn't erase and start over. We simply figured out a way to make it work.)
After finishing our initial drawing following the video directions and the sample provided, we were given the opportunity to color our picture and to create a background. I like the way that we both started with the same sample drawing and same instructions, but created such different works.
We have all had fun working with these drawing lessons. The best part (from an academic standpoint) is that Lauren is learning to look carefully at the models, to see the way the lines interact, to find patterns, and then to recreate them. I can already see how her drawing skills have improved over the past few weeks of lessons.
Individual Level 1 drawing lessons from ArtAchieve can be purchased for $4; lessons for other levels are slightly higher. Our Entire Level 1 set includes two lessons that are available to try for free and nine additional ones. The bundle costs $27. The Level 1 lessons are suitable for beginning students (elementary ages) all the way up through adults. More advanced students may want to start with a more difficult level.

©2009-2016 Through the Calm and Through the Storm. All rights reserved. Photos and content may not be reproduced. http://throughthecalmandthroughthestorm.blogspot.com