I am almost embarrassed to admit how many organization books that I've read (or that I have stored on my Kindle to read later).
Paperless Home Organization
by Mystie Winckler is perhaps the only organizational book that has made the big difference for me.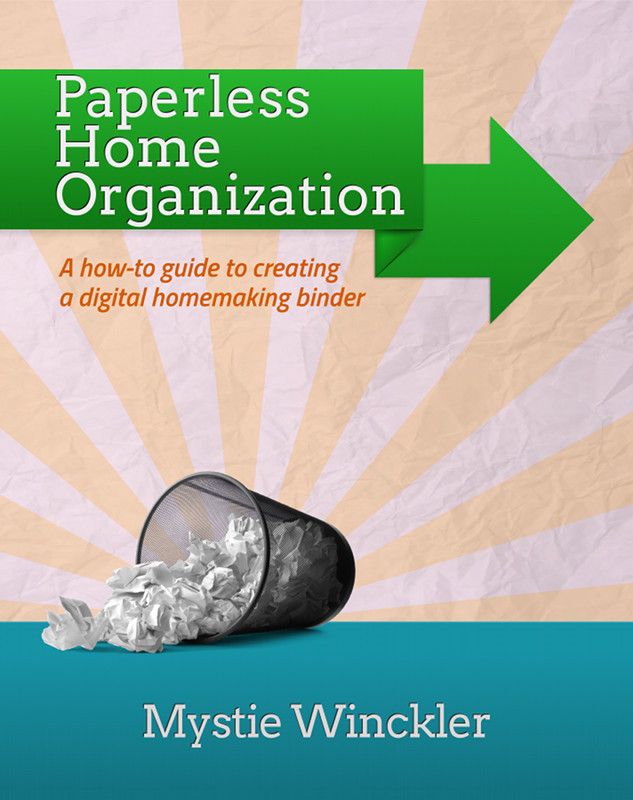 In the past I've tried to keep a digital calendar on my iPod that mirrored the paper calendar I kept at home. I was never able to keep the two in sync, and I often ended up with scribbled reminders on scraps of paper scattered around the house or tossed in the bottom of my purse. Using the directions in
Paperless Home Organization
, I set up google calendars that sync to the desktop computer at home, the family iPad, and my own iPod. I even managed to set it all up so that my husband can see my calendars to check my availability before scheduling new family commitments.
While reading the book, I better organized my overflowing email inbox so that at one point I had gone from 1000+ emails in my inbox to less than 10. I'm slowly learning to use the two other tools covered in the book -- Evernote and the "Remember the Milk" app. I've made huge strides in becoming more organized, and I still refer back to
Paperless Home Organization
as I continue the ongoing process of keeping everything straightened out.
In addition to her book to simplify my calendars and organize my digital paperwork, Mystie Winckler also has a plan to make mealtimes easier.
Simplified Dinners
from
Simplified Pantry
is far more than just a recipe book. The idea behind Simplified Dinners is to give families a completely new approach to meal-planning, grocery-shopping, and cooking. With a well stocked pantry, I just need to purchase meats (either what's on sale or what I want to fix) and whatever basic pantry staples that I've run out of. The book gives me sixteen different meal types, each with variations to fit the meats I've chosen.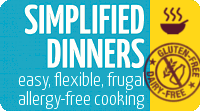 In addition to the original Simplified Dinners ebook, Simplified Pantry also offers
Simplified Dinners, Gluten-free, Dairy-free
. I was thrilled to read the recipe ideas in this book and found that many of the meals would work for our family's set of allergens (avoiding gluten, milk, egg, soy, fish, and nuts).
I loved all the easy ideas for meals in both versions of the
Simplified Dinners
books. Our family really enjoyed the chimichanga recipe, and I appreciated that the idea allowed me to turn leftover pot roast into a dish that didn't cause a leftover rebellion among my family. We also tried a pot roast recipe from the book that was so delicious we didn't have any leftovers.
Unfortunately, my family wasn't really able to embrace the simplified aspect of these books. My family is always in search of new foods and will sometimes complain, "We just had this meal last month." Most of the Simplified Dinners recipes were variations on a theme, and my kids weren't fooled into thinking that a new variety of roast or tacos was enough to count as something different.
Simplified Pantry
and
Simplified Pantry: Gluten Free, Dairy Free
are both available as ebooks for $12.99. The
Paperless Home Organization
ebook costs $3.99.
From May 20th through June 3rd, you can receive 30% off of the purchase price of any of these ebooks by entering the code TOS2013 at checkout.

©2009-2013 Through the Calm and Through the Storm. All rights reserved. Photos and content may not be reproduced. http://throughthecalmandthroughthestorm.blogspot.com