Many moons ago, I was a young college graduate, desperate to find a teaching job. I found one at a local private school, a job teaching elementary P.E. among other subjects. When my parents found out, they laughed. You see, I'm not very athletic...at all. I just don't do well with sports that require hitting, catching, or kicking a ball. Not athletic does not mean that I don't care about fitness, though.
Family Time Fitness
has created a homeschool Physical Education program that's nearly perfect for non-athletic parents like me.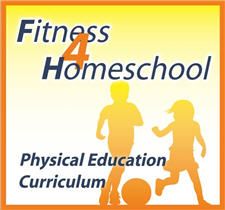 The Fitness for Homeschool Core 1 Curriculum includes 260 lessons for Kindergarten through eighth graders. Each lesson includes a full 30-45 minute workout consisting of warmup activities, aerobic or game-play exercises, and then a few cool-down stretches. These activities are suitable for either indoor or outdoor classes. We were able to do them with four of us exercising in our fairly small living room. Additionally, each lesson gives a suggestion for an outdoor activity that would extend the exercise period. I found the lessons to be appropriately varied. The individual activities repeat, but they are combined in different ways and aren't repeated so frequently that my children complain about doing the same thing over and over again. The lessons are meant to be used in order because many of the activities in later lessons build on skills developed earlier in the program.
I was initially impressed with the program because it was truly designed to be easy for a homeschooling parent. I downloaded the complete set of lessons and found them nicely organized into blocks of 20 lessons so that I didn't have to juggle a huge file on my nook (or try to print hundreds of pages). The authors also took the time to create one page summaries for each lesson and to arrange them for easier printing. Typically, I read through the detailed description of the entire lesson prior to gathering the kids. For any activity that wasn't completely clear from the description, I watched the corresponding you-tube video so that I could correctly demonstrate the exercise during our PE time.
Warm-up exercises -- Carpet Angels
Aerobic activity -- Addison and I are jumping back and forth across a jump rope lying on the floor
Monster Walk
Cool down stretches
As I started implementing the Family Time Fitness curriculum, I continued to be impressed. I honestly did not expect to find a program this intense. This program is not merely a few active games to play with my children -- it is a solid collection of challenging workouts. I had a few moments to spare before I left for an appointment one afternoon and decided to try the first day's exercises with my kids. I got so sweaty during our 30 minute workout that I changed clothes before I left the house. I wished that I could have taken a shower too.
My sweatiest athlete
All in all, Family Time Fitness is a great curriculum whether you need a PE credit for a transcript or just need to get your couch potatoes into a healthy routine. Beware: It doesn't start gradually, though. The day after that first workout, I realized just how hard I had worked the day before. Brennan and I both saw the instructions to do 60 frog squats and didn't think very much about it. We both walked a little gingerly around the house the next day (or two) because our legs were so sore. Apparently, we both worked different leg muscles doing frog squats than the ones we use running or swimming. If you need to start a little slower, you can easily decrease the number of exercises to suit. Either way, once you're partway into the program, you'll be thrilled with the results!
The
Core 1 Physical Education Curriculum
costs $57. Additionally, it may require a few small purchases in order to complete all of the activities. We bought two hula hoops, two jump ropes, and a playground ball in order to do the exercises.
Disclaimer: I received Fitness for Homeschool Core 1 program as a member of the 2012 TOS Homeschool Review Crew, and I received no other compensation. In return, I agreed to give an honest review of the materials and how they worked for my homeschool family.