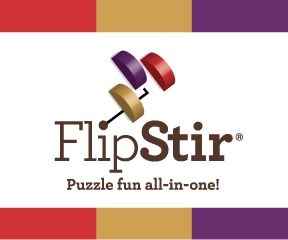 We've spent quite a bit of our summer on the road -- either "short" trips to Denver for appointments (a little more than an hour away) or our longer road trip across the country. One thing that Lauren consistently packed for the trips was our new
Rainbow Pencils
FlipStir puzzle from
Enlivenze LLC
.
FlipStir puzzles are all-in-one puzzles with no loose pieces to get misplaced. All of the pieces are enclosed in a clear plastic tube. After shaking it to mix up the pieces, the stir rod is used to manipulate the pieces into place. Sometimes it's necessary to bang on the top or tilt it different directions to get the pieces to fall into better positions.
All five of us took the challenge to solve the FlipStir. With only ten pieces, I thought it wouldn't be very hard at all to solve, but it ended up taking quite a bit of concentration and maneuvering to get everything lined up correctly.
I left the FlipStir sitting out on the kitchen table for a few days where people could pick it up and fiddle with it throughout the day. Even those of us that had solved it a first time, picked it up time and time again to see if we could solve it faster, arrange the pieces facing the opposite direction, etc. Lauren often timed herself solving it so that she could see if she beat her record of 6 minutes, 17 seconds.
Lauren often used our FlipStir puzzle in the car, but it could be used lots of places -- doctor's offices, waiting for a sibling to finish sports practice, and more. Shaking the pieces is a bit loud, though, so I wouldn't recommend it for quiet places like museums or libraries.
In addition to using FlipStir puzzles for on-the-go entertainment, they would be a perfect way to pass the time in the hospital or a doctor's waiting room. The outside casing would be easily disinfected and there aren't many nooks or crevices where germs could linger.
Our Rainbow Pencils FlipStir puzzle is one of the Level 1 options in terms of difficulty. The Level 2 puzzles also have 10 pieces, but the pieces have curved edges that are more difficult to work with. Each
FlipStir
puzzle costs $24.95 and is recommended for ages 7 and up.


©2009-2016 Through the Calm and Through the Storm. All rights reserved. Photos and content may not be reproduced. http://throughthecalmandthroughthestorm.blogspot.com