I'm embarrassed to admit that one of the subjects that often gets overlooked in our busy school days is science. It's partly because I haven't found a curriculum that fits well into our school days.
Recently, we've been working with the
Introductory Science
materials from
Science Shepherd
, and I'm happy to report that Lauren is finally learning basic science concepts.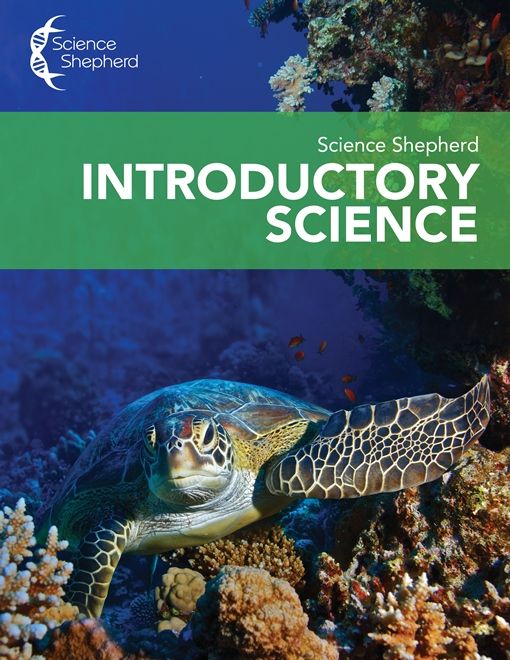 Each day's lesson includes a short video and at least one page to complete in the consumable student workbook. We've been using the Level B workbook geared for ages 9-11; it also comes as an easier A level workbook for ages 6-8. The video lessons are generally no more than five minutes in length, and it usually doesn't take Lauren more than fifteen minutes to complete a day's work.
I think the video lessons are rather dry, but Lauren hasn't complained. The teacher spends much of the videos sitting at a desk, similar to the way a newscaster would. Graphics to explain the concepts either appear behind the news desk or take over the screen.
The information in the lessons is presented in a very straight-forward style, but it sometimes covers new information at a faster pace than Lauren can keep up with. Thankfully, she can pause and replay the video as much as she needs.
After the video, the workbook has a series of questions to answer. Lauren often watches the video lesson a second or third time in order to figure out the correct answers.
A lot of the lessons include simple activities that further illustrate the concepts covered in the lesson. For instance, in one lesson, Lauren saw an additional video that showed how to make a pinecone birdfeeder so that she could observe birds in our backyard. (Ours is made with sunbutter so that it would be safer for the nut allergies in our house.) On another day, she colored and cut out different flowers so that she could practice classifying them in different ways.
At the end of each week, the workbook has a crossword puzzle to review the new terms learned in that unit.
I am rather impressed with this curriculum. The lessons are short, but full of basic science information. It introduces scientific terms and defines them accurately. For instance, Lauren can now define words such as evaporation, precipitation, and hypothesis. It covers a wide range of science topics appropriate for elementary students, including meteorology, geology, astronomy, life science (plants, animals, and human beings), and some physical science concepts.
Science Shepherd considers these materials to be a complete science curriculum appropriate for students ages 6 through 11 (roughly first through sixth grade). I am a bit hesitant to recommend this program for upper elementary students, though. I would expect upper elementary science students to be delving more deeply into science concepts and not flying through them at such a fast pace.
That said, this program is perfect for Lauren. I recently realized that Lauren does not do well at just absorbing information; she needs to be explicitly taught new words and concepts. Furthermore, since she has had little direct science instruction over the past few years, much of this basic knowledge is new to her. She knew what rain was but needed this program to help her connect her experiences with rain to the definition "liquid water falling from the clouds." Short lessons with direct instruction in basic concepts is exactly what we needed to add to her school days.
The
Introductory Science
video course with12 month access costs $35 and each workbook (either Level A or B) costs $15. The answer booklet for parents/teachers costs $3.


©2009-2016 Through the Calm and Through the Storm. All rights reserved. Photos and content may not be reproduced. http://throughthecalmandthroughthestorm.blogspot.com