When I think back on how I learned to write, my most vivid memory is of my high school senior English class. At the time all of us were a bit grumpy. We expected to have the same (easy) teacher for Honors English as the year before. Instead our class was assigned to a new teacher at the school, a teacher with much higher standards for writing. I remember many frustrating nights of correcting sentences, rewriting paragraphs, and making sure that we hadn't broken any of "the rules" for effective writing. I owe a lot to that class, but I think it simply made good writers better.
Now that I'm teaching writing to my own children, I've found myself at a bit of a loss several times. I still remember many of the style and formatting rules from senior English, but I don't necessarily know how to teach student to organize their thoughts into good paragraphs. Although I remember our rules for making good writers better, I don't know how to teach my children to become good writers.
The
Institute for Excellence in Writing (IEW)
is teaching me how to help my students become great writers -- writers with great organization and content, as well as style. I have used several IEW products in the past, and this time I'm using the
Teaching Writing: Structure and Style, Student Writing Intensive-B
package.
Our package of IEW goodies came with both the recently updated
Teaching Writing: Structure and Style DVD Seminar
and the
Student Writing Intensive Level B
materials.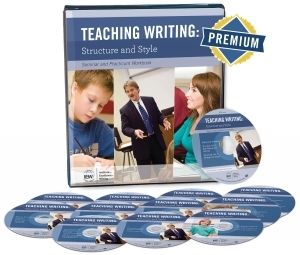 Teaching Writing: Structure and Style (TWSS)
contains twelve DVDs (more than 14 hours of instruction) and a workbook. These materials were intended for me to use so that I could learn how to most effectively use the IEW program with my students. In addition, I received a premium content subscription that allowed me to stream all of the videos included on the DVDs, download audio MP3 of Andrew Pudewa's most popular talks, and access PDF files full of sample materials to use while teaching.
I was very impressed with these materials.
I should have splurged and bought a set years ago.
These videos were not simply a how-to manual for using the IEW materials. They are truly a how-to manual for teaching students. I haven't watched all the DVDs yet, but I already have pages of notes -- some ideas pertaining to teaching writing and some ideas that I can apply to all of our other subjects too.
After watching the first few discs, I'm learning to look at the process part of schoolwork and not pay as much attention to the finished project for that day. Many people fault IEW for its emphasis on writing checklists requiring a certain number of dress-ups. Andrew Pudewa compares assignments done using the writing checklist to the scales that any musician learns to play. The point of learning scales isn't to make beautiful music; the point is to build skills. I'm now trying to see school assignments as part of a skill building process instead of want to have a perfect finished product each time.
That example is just one of many major thinking shifts that I'm making as a result of watching these DVDs.
The time I've spent watching these instructional videos has made more of a difference in the way I teach my children than anything else I've studied or read as a homeschool mom.
(As a side note, I've considered putting a portable DVD player in the car so that I can hear the audio portions of the presentation while I'm driving. Perhaps I think I'll settle for loading all of the audio mp3s from the premium download section onto my iPhone instead.)
Student Writing Intensive
B
(SWI-B) is a set of four DVDs containing live recordings of Andrew Pudewa teaching sixth through eighth grade students.
At first I worried about using this level with Brennan. He's in eighth grade, but he does not like reading and writing at all. I cannot remember the last time that he's written a full paragraph answer to a question on one of his assignments. I consider it a really great day if he turns in a few well written sentences. I then read
this post
on the IEW website about using their writing programs with children who struggle with schoolwork or who have other special needs. Even though Brennan doesn't have any diagnosed special needs, the article helped me understand how the IEW method of clearly explaining the writing process and using concrete models could help all students. Instead of offering different products to meet the needs of special needs students, IEW offers products that excel in teaching students of all abilities. The Student Writing Intensive videos are just as appropriate for the student getting As in every class as they are for the students who struggle with reading and writing.
In the DVD instruction, Andrew Pudewa clearly demonstrates the lesson material for the students. In the first few lessons, he shows how to make key word outlines from a passage so that the students can rewrite the material in their own words. Plenty of examples are given on the video and plenty of extra source materials are included in the premium content subscription. I love how the source materials are simple enough for students to use, but not at all babyish. In addition, I think IEW has done a fabulous job of picking passages that appeal to both boys and girls.
The most important part of SWI-B is that there aren't any assignments that seem difficult. The daily assignments break the writing process down into manageable chunks that aren't very intimidating. Brennan even wrote a paragraph that was a full page long (handwritten, double-spaced) about Sea Wasps without complaining.
Brennan and I have only worked through the first five or six weeks of lesson in the SWI-B materials (out of 30 scheduled weeks), and I can already see a difference in Brennan's willingness to finish written assignments for school. I'm anxious to move forward to the other units in the IEW writing program. I've gotten to look ahead at Brennan's future lesson while watching the TWSS presentations, and I can now see how the baby steps he's making in the first few SWI lessons will add up to him being able to write full compositions when he finishes the program.
The
Teaching Writing/Student Writing Value Package
with both Teaching Writing: Structure and Style and Student Writing Intensive-B costs $249. It is appropriate for students working at approximately a sixth through eighth grade level. There are similar packages available for younger (third through fifth grade) and older (high school) students as well.


©2009-2015 Through the Calm and Through the Storm. All rights reserved. Photos and content may not be reproduced. http://throughthecalmandthroughthestorm.blogspot.com