I don't usually keep up with movies, box office numbers, or the latest gossip about Hollywood stars. Because of that, when
FishFlix.com
offered reviewers a choice of movies, I picked the
Unbroken 2-DVD Legacy of Faith Edition
solely based on the description on the website. I wanted to hear more of the story of Louis Zamperini's life -- his story of running in the Olympics, floating in a raft at sea, and then surviving a WWII prisoner of war camp. I honestly didn't know that I was picking a blockbuster movie directed by Angelina Jolie.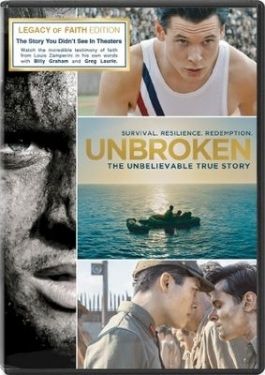 Unfortunately, I wasn't really all that impressed with the movie itself. It tells the story of Zamperini's life, but it seems like something is missing. When he floated at sea for more than a month, he clung to the hope that they'd be rescued sometime soon. Later, when he was tortured in Japanese internment camps, he continued to stand strong. He was tortured by a prison guard the American prisoners had dubbed, "The Bird," but he never backed down. Sadly, the movie never really gave an explanation. I saw his many trials, but I never did see what carried him through all it all. What gave him the strength to continue? Why didn't he ever just give up? After watching several hours of a movie showing the most horrific moments in his life, I didn't find satisfying answers to my questions. Don't get me wrong; I was thrilled to see him safely return home to his mother and father at the end of the movie. I just wanted to know more.
As happens sometimes, I set aside the DVD for a few weeks before I got a chance to watch the second disc. The Unbroken 2-DVD Legacy of Faith Edition from
FishFlix.com
contains a second DVD with more than ninety additional minutes of bonus features about Louie Zamperini. I guess I'm not the type of person Hollywood movies are produced for. I preferred watching the bonus content over the actual movie. The DVD includes several interviews with Louie Zamperini, an inspirational message of faith that was produced in conjunction with The Billy Graham Evangelical Association, and Louie's own discussion of faith and forgiveness.
I was touched when I heard Louie Zamperini talk about how his wife talked him into going to a Billy Graham revival meeting several years after he had returned from war and how his life was changed. Zamperini could have lived a bitter life scarred by his memories, but instead, he offered forgiveness to his Japanese captors, even The Bird. Later in his life, he was able to visit Japan and even led a Bible study with many of the men who had tortured American prisoners of war. To me, the stories he told of his life after the war were as meaningful as the fancy motion picture showing his time before and during World War II.
Unbroken
was rated PG-13 for "war violence including intense scenes of brutality and for brief profanity" (according to the Classification and Ratings Administration at the Motion Picture Association of America). I agree that it's a movie for mature audiences.
FishFlix.com
advertises "Christian Movies to Inspire and Entertain." In addition to the Unbroken Legacy of Faith Edition that currently sells for $19.97, they offer a wide variety of films for both children and families. Some of the other crew members watched educational films geared for a younger audience than
Unbroken
. Be sure to click the button below to read their reviews.


©2009-2015 Through the Calm and Through the Storm. All rights reserved. Photos and content may not be reproduced. http://throughthecalmandthroughthestorm.blogspot.com