In Michele's
34 Weeks of Clean challenges
, she listed the master bedroom the week before the master closet. As it happened, I got a bit of a late start cleaning the bedroom, switched to the closet for a few days, and then went back to finish the bedroom. I shared the
after pictures of our close
t a few weeks ago, but I never shared a finished look at our bedroom.
I have (had?) a nasty habit of spending so much time trying to pick up things in other parts of the house that I didn't have any energy left to worry about all the things that I piled in our master bedroom. I think part of it was a bit of laziness on my part and part of it was an "out of sight, out of mind" phenomenon.
Here's a candid shot of my side of our dresser before I started cleaning:
Rather pitiful, isn't it? Most of the jewelry belongs in the jewelry box that was sitting right there. Thankfully it only took a few minutes to put it all back where it belongs.
If I thought the dresser was bad, my side of the bed was horrid.
I should say that the picture was taken on a worse than usual day. I don't always have Brennan's guitars in our bedroom. Sadly, though, the stack of clean laundry waiting to be put away didn't used to be all that unusual.
Again, it didn't take very long to get everything put away.
As I work through 34 Weeks of Clean, I'm learning that it really doesn't take much time to keep things clean. For some reason, I always think that I don't have time to clean. Instead, I overestimate how long it will take to do a task and then procrastinate. Before I know it, all my procrastinating leads to a little mess here, a little mess there, and a discouraging feeling that the whole house is a wreck.
I timed myself to figure out just how long it takes to put away my laundry -- less than five minutes to put away the entire week's worth of folded clothes. I spend that much time checking Facebook "one more time" before bed. I'm slowly learning that it's a lot more satisfying to make sure I've spent a few minutes here and there cleaning up after myself.
If you'd like to join me with the challenges, you can find Michele's posts on her
Family, Faith, and Fridays blog
, on
the Facebook page
, or by clicking the button below. She posts a new challenge every Friday and will also be hosting a weekly link-up for any other bloggers who are brave enough to share pictures of their progress. There is also a prize basket giveaway with entries earned by blogging or posting pictures on her blog's FB wall.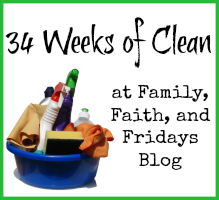 ©2009-2015 Through the Calm and Through the Storm. All rights reserved. Photos and content may not be reproduced.