A little over a week ago I sent a picture and this text to a friend, "Because reorganizing the pantry the night before company arrives is a brilliant idea."
I'm working along with Michele on her 34 weeks of Clean and last Friday's challenge was to clean/organize the pantry. Since I knew I was going to be gone all during the week, I jumped in and started on Friday afternoon.
Before:
I need to point out all the tiny bottles of hot sauce on the middle shelf. They were so unstable that the jalapeño flavor fell and shattered about a week before the big organization project.
Lessons learned while working:
1. It was a good idea to pull out an extra table to help hold everything that I pulled out of the pantry.
2. It would've been a better idea to wash (and put away the dishes) stacked beside the sink so that I could've used that counter space to hold things.
3. When pulling stuff out of the pantry, it's a bad idea to block the door to the garage -- especially when the stash of extra bins, baskets, etc. are stored out there.
4. There's a working garage door opener in the junk drawer that allowed me to go out the front door and get into the garage.
5. Once I started using Michele's idea to store things in clear glass jars, I may have gotten a little carried away. It's a good thing I could walk around the house to the garage to look for more canning jars.
After:
Obviously my pantry stayed organized for the entire week while we were gone on vacation. It managed to hold up to a big test today, though. I went shopping for a week's worth of groceries, and I could put everything neatly away. I was also able to spend a bit less at the grocery store because I could easily check to see what I didn't need before I went shopping.
This week's cleaning challenge is
Kitchen Cabinets and Drawers
. I don't have time to work on them this weekend, but I should still be able to finish (and post pictures) before the next challenge is posted on Friday.
If you'd like to join the challenge, you can find Michele's posts on her
Family, Faith, and Fridays blog
, on
the Facebook page
, or by clicking the button below. She will also be hosting a weekly link-up for any other bloggers who are brave enough to share pictures of their progress.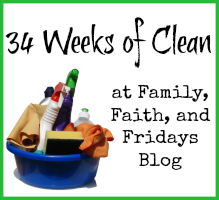 ©2009-2015 Through the Calm and Through the Storm. All rights reserved. Photos and content may not be reproduced. http://throughthecalmandthroughthestorm.blogspot.com