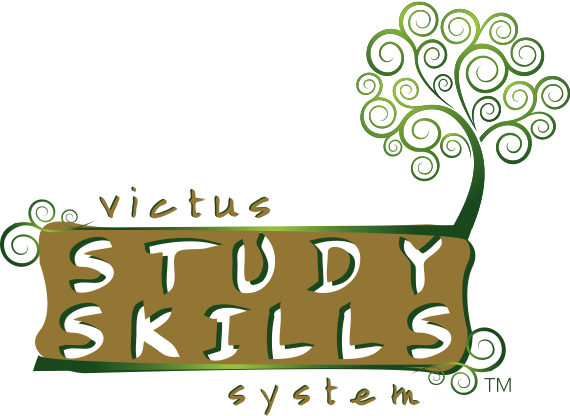 All too often, I've told my children to study harder or pay more attention. Until recently, however, I never specifically taught them how to study most effectively.
Victus Study Skills System
has developed materials to specifically teach a child how to be a more effective student. We received their complete
Victus Study Skills System
which includes a Student Workbook and corresponding Teacher Edition.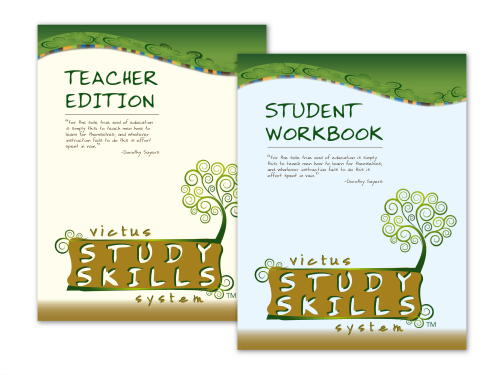 Victus Study Skills applies to much more than just school; many of the lessons apply to life in general. Their three foundational cornerstones ask the student: Where are you now? Where do you want to be? How do you get there?
In the "Where am I now?" section, students discuss their current study habits and learning strengths. "Where do you want to be?" teaches goal setting, both in terms of long term and short term goals or objectives. The final "How do you get there?" section introduces specific learning or study strategies.
I used this program with Brennan (my seventh grader), and I think it's particularly difficult to introduce these concepts at this particular age. Specifically, he's at a stage where his answers to the question "Where do you see yourself in five or ten years?" is simply a muttered "I don't know" while he shrugs his shoulders.
I was most interested in digging into the section about study skills, and I was impressed with the PQRST lesson on effective ways of reading for comprehension and learning. At first the extra steps in reading an assignment seemed unnecessary, but they definitely help students remember what they read.
The basic concepts for each lesson are briefly outlined in the Teacher Edition, but the specific ideas of how to make the concepts relevant to the student were left up to the teacher to create. In the case of the PQRST reading strategy, I showed Brennan how to apply the steps to that day's history reading assignment. First, he should Preview the topic by looking at the subheadings, bold-faced words, and illustrations in the chapter. Based on the preview, he should ask himself Questions that he thinks will be answered in the readings. (These questions should be written down, perhaps on the reproducible form provided.) He should then actively Read the chapter, looking for the answers to those questions and taking additional notes. After reading the chapter and answering the questions, the student should then State aloud what they just read. If this assignment were part of a larger unit and if he was preparing for some sort of exam, then Brennan should Test himself daily by reviewing the previous day's notes.
It takes practice to apply this strategy to every reading assignment, and we will need to go over these steps several more times before Brennan becomes comfortable using them for his daily lessons. It only took about a half hour for me to teach this process, but we will have to revisit this model fairly often before Brennan will apply it on his own.
Victus Study Skills System teaches skills appropriate for nearly any age student, especially fifth through twelfth graders. It would be actually most effective if students were exposed to these concepts repeatedly over the course of their school years. Students in school classrooms may find the sections on note taking and test skills more applicable than homeschoolers who follow a more relaxed approach to education.
The Victus Study Skills System Teacher Edition costs $40 and each Student Workbook costs $20.


©2009-2014 Through the Calm and Through the Storm. All rights reserved. Photos and content may not be reproduced. http://throughthecalmandthroughthestorm.blogspot.com