What is Time4Learning?
Time4Learning
is an online program that provides online educational activities for students of all ages. For second graders, it covers math, language arts, social studies, and science topics.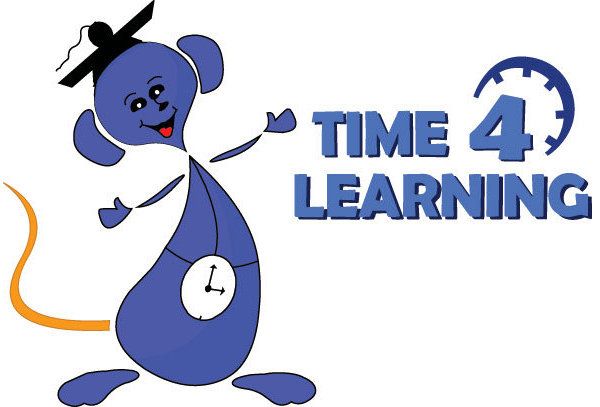 How did Time4Learning work for us?
There are a lot of activities to choose from at Lauren's age level -- 784 activities in all. The amount of activities is heavily weighted towards language arts activities. I was a bit disappointed that there were so few science and social studies activities available. (You can find a complete break down of the activities on the
Scope and Sequence
page.)
Nearly all of the online activities have a corresponding printed sheet that can be used for reinforcement. I printed several of the math pages because I thought she needed more practice than she received during the online lesson.
Unfortunately, each math topic only contained a single activity and printable worksheet. Even with the printed worksheet, I worry that there is not enough practice. For instance, Lauren caught on to the idea of using paperclips to measure something in a single setting. For more difficult concepts like addition with regrouping, she needs more than just the single practice session and worksheet provided by Time4Learning.
I was impressed with the Language Arts section. The activities cover phonics, grammar, vocabulary, reading comprehension, and more. The Language Arts Extension area introduces vocabulary and facts about various subjects; this background knowledge will make it easier for a student to understand future assignments in subject ares.
The extension activities start with a puzzle that introduces basic facts. The information was presented in small chunks that would be easy for a student to remember. For instance, the background information about the desert talks about cactus, camels, rattlesnakes, and a few other subjects.
After working through the background information, the student moves on to a story about the topic. There are four different options in terms of reading the story -- Read to Me (fully narrated), Read Along (narrated as phrases are highlighted), Read by Myself (some words can be read if they are clicked), and I Can Read (no narration). Lauren usually chose to listen to the story using the Read Along option:
After reading the story, students have two option to check their comprehension -- either an illustrated comprehension activity or a simple quiz. The questions and all of the answer choices are read aloud to the student in both options.
I had originally hoped that the science and social studies activities would help fill in some gaps in Lauren's school days. We always make time for math and reading instruction, but sometimes the extra subjects get short changed. At first, I worried that there weren't enough science and social studies topics (only 50 total at this level). I found that many topics in the Language Arts Extensions area could be considered science or social studies subjects.
What did Lauren think?
Honestly, Lauren doesn't really enjoy Time4Learning. I think it boils down to the fact that she doesn't like being told that she has a specific learning assignment on the computer. She prefers to use the computer for free choice activities, and Time4Learning is just the latest in a long string of educational computer activities that she hasn't enjoyed.
What did I think?
My opinion is heavily influenced by the fact that getting Lauren to do the Time4Learning activities was often a struggle. I think Time4Learning would be a great program to use with students that need (or want) extra educational materials to work on as a supplement to their regular schoolwork. It would also provide great refresher activities to use over a long summer break or if there's an interruption in the regular homeschool schedule (i.e. birth of a new baby, an extended illness, etc). I don't necessarily think that the math materials are sufficient to stand on their own as a full curriculum. The Language Arts activities would provide a lot of additional instruction and practice. Any student could benefit from working with Time4Learning and improving their reading skills.
Other opinions:
Two years ago (September 2011), I reviewed
Time4Learning
with all three of my kids. They were in Kindergarten, fifth, and eighth grades. A year prior to that (September 2010), I reviewed
the preschool program
with Lauren. You can click the banner below to read what the rest of the crew members thought about using Time4Learning with students of all ages.
A subscription to the elementary levels of
Time4Learning
costs $19.95 per month for a single student and an additional $14.95 per month for each additional student. The also offer high school level materials for a slightly higher price.

©2009-2013 Through the Calm and Through the Storm. All rights reserved. Photos and content may not be reproduced. http://throughthecalmandthroughthestorm.blogspot.com