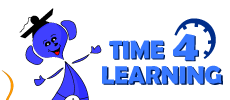 Last year, Lauren and I reviewed
Time 4 Learning
's Preschool program. (That blog entry is
here
, if you are interested.) I remember how she used to beg me to let her play more, and I was excited to do another review of the program this year. This time, we received enough subscriptions for all three kids to use the program.
Unfortunately, this year I rarely heard any of my children beg to play more Time 4 Learning. Most of the time I had to remind them to do get on the computer and do their lessons. I think much of it boils down to the fact that my kids do not like the automated voice that it used throughout. I watched both Brennan and Lauren start to "zone out" whenever the computer was talking. Brennan told me that he liked to read the book lessons but he really didn't like the way the video ones seemed to drag on.
Lauren was often frustrated by having to wait for complete instructions to be given before she could answer the question that was on the screen. For some of the activities, she spent as much time listening to instructions or explanations as she did picking the correct answer. She would prefer to learn by doing activities that were more game oriented and less explanation oriented.
Addison really liked the
Odyssey Writer tool
that she used on Time 4 Learning. It was an awesome interactive tool that helped her to complete her writing assignments online. It allowed her to organize her thoughts in an outline form, to keep track of notes and ideas along the way, and then to type her final draft. It made a writing assignment that she was previously grumbling about easier to complete.
Even though my kids were not big fans of the program, I found a lot to like about
Time 4 Learning
. I was impressed with the sheer amount of lessons that were available for my students. For Brennan (a fifth grader), he could choose from 274 language arts, 210 Math, 143 science, and 287 social studies activities. You can find an overview of the curriculum for all the grades
here
.
I also liked the way that I could log into my parent account and review all that my children learned during their Time 4 Learning sessions. I could see which activities they had completed, what sort of score they had received, how much time they spent working, etc.
I can think of times in the past where our days were so hectic that we went weeks without completing a science lesson. It might have been nice to have Time 4 Learning available back then so that Addison and Brennan could have been introduced to more elementary science topics than I had time to teach. I know that other parents sometimes purchase a subscription for their older children during times when Mom is busy taking care of a newborn sibling.
Time 4 Learning costs $19.95 per month for the first child in your family and an additional $14.95 per month for each additional child.
If you'd like to hear how much the other members of the review crew thought about their trial subscriptions of
Time 4 Learning
, please visit The Old Schoolhouse Review Crew blog
here
.
I received trial memberships for all three of my kids to use Time 4 Learning for thirty days as a member of the 2011 TOS Homeschool Review Crew, and I received no other compensation. In return, I agreed to give an honest review of the materials and how they worked for my homeschool family.