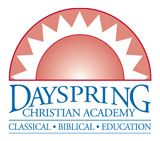 I've often thought that the best part of doing homeschool product reviews is that I get to learn about myself and my children. Brennan has been working through an online program from
Dayspring Christian Academy
for the past six weeks, and I may have finally figured out a good way for him to learn.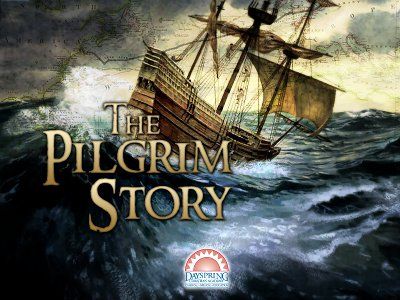 The Pilgrim Story online course
contains 17 lessons appropriate for third through sixth graders. Each lesson takes Brennan about 30-45 minutes to complete. He listens to a power point presentation and completes the notes sheet as it goes along. Each lesson also includes vocabulary words, quotes from original sources, and an assessment quiz.
Some of the lessons included extra activities to be completed either as part of the lecture or afterwards. For instance, the lesson about the Principle of Conscience talked about external property as contrasted with internal property. The assignment for that lesson was to make a list of all of the property that belongs to you -- external property on the right hand side and internal property on the left hand side. Ideas, personality traits, and conscience are all internal possessions.
Other activities did not require quite as much thoughtful analysis and discussion. One of Brennan's favorites was the one where he was able to pack a virtual trunk to take on a voyage to America. Because of limited space in the truck (only 50 cubic feet), he had to decide how much to pack. He knew he needed a weapon and cooking tools, but it was harder to decide if an extra set of clothes was more useful than a first aid kit.
From a parent perspective, I thought this program was fascinating. I've heard of the Principle Approach to teaching history, but this is the first time I've gotten to see those ideas at work. The Pilgrim Story focuses on Biblical principles, such as hard work, Christian character, perseverance, Christian liberty, diligence, industry, self-governance, liberty of conscience, and more. These concepts are introduced one at a time, using examples from the Pilgrims to illustrate the ideas. I was impressed with the way that Brennan was able to understand these abstract concepts after seeing them applied to the historical events discussed in class.
Throughout this course, I was also impressed with the amount of information that Brennan is learning. He has done well with the each of the lesson quizzes and also did well on the first two unit tests. I suspect that he does well with the way the material is presented. The lesson material is presented as a series of slides with spoken narration, much the way a classroom teacher would lecture a class. Brennan completes the note sheet for each point, and then moves on to the next slide. Since he must click to move to the next slide, there's no danger of the teacher moving on to the third lecture point before Brennan finishes filling in the blanks for the first point.
Not only does Brennan retain the information for the quiz, he was able to discuss it later in the day. We had a picturesque homeschool moment one day at lunchtime when he was comparing what he learned in his lesson with what Addison had learned in her own history studies about the Pilgrims.
The Pilgrim Story
is available from Dayspring Christian Academy for $99. That price includes online access to all of the course content for six months. The course materials included lots of pages that needed to be printed. Even though they look gorgeous in full-color, we found that they worked equally well in black and white. Dayspring Christian Academy offers two other online courses at this time, but they are both aimed at a high school audience (AP Statistics and AP Psychology). They also offer a 30 minute class for parents and teachers on How to Teach Literature Using the Principle Approach. I really wish they would expand their offerings for elementary students.
I suspect that in several years I will look back at this class and think of it as a turning point in Brennan's homeschool. For most of this fall, I wasn't sure what we were going to do for his schoolwork. If he read the materials by himself, he didn't always retain as much information as I thought he should. If I read the materials to him, his attention often wandered and he didn't catch all that I was trying to tell him. I now know that he learns things well when he hears the information and also writes in down in an organized format. I need to create some organized note-taking pages for him to complete while we work through other school materials. Perhaps this is the answer I've been looking for.
Disclaimer: I received access to The Pilgrim Story online class as a member of the 2012 TOS Homeschool Review Crew, and I received no other compensation. In return, I agreed to give an honest review of the materials and how they worked for my homeschool family.