Since my kitchen currently looks like this:
And since the rest of the house only looks slightly better, I'm going to take a bit of a shortcut writing this week's Blogging Through the Alphabet post and revisit a past topic that is still dear to me.
For me and my family, F is for Food Allergies. Last May, during Food Allergy Awareness week, I posted a five day series about food allergies and how they affected my family.
Throughout that week, I talked about our family's diet restrictions (
A Tale of Three Diets
), a typical week's worth of meals for us (
What's Left to Eat?
), and eating when we're on the go (
Food Allergies Don't Slow Us Down
).
I also shared about my all time favoritest place to get Food Allergy information and support --
Kids with Food Allergies
. If you need a good reason to check out KFA, I listed several --
Five Reasons I Love Kids with Food Allergies
.
Even though food allergies have an impact on every meal (and snack) of every day of our lives, we don't let food allergies define us.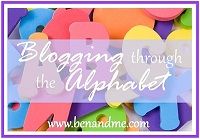 I'm excited about what comes to mind to share as I blog through the Alphabet with my friend Marcy at
Ben and Me
. Please stop back each week to see what I'm sharing, and click the banner above if you'd like to see what other bloggers have on their minds this week.