Earlier this past week, I planned out my E is for _____ post. I decided that since I has posted two rather serious posts in a row (C is for
a God bigger than a cup of Coffee
and D is for
Diabetes
), I would head off on a humorous path this week.
During our trip to Ohio last spring, we took Lauren to the Cincinnati Zoo. Her favorite part was seeing the elephants, in particular seeing an elephant poop.
A few weeks ago, we went to the Reid Park Zoo in Tucson. What did Lauren want to see? Yep. An elephant pooping. We saw a baby elephant following its mother, and another young elephant playing in the water. Lauren still wanted to see an elephant poop.
This morning, I was thinking once again about my E post. In particular, I was thinking about how I needed to make sure to finish it up so that I could add it to the Blogging through the Alphabet link before it closes tonight. At the same time, I was thinking that I wasn't sure that I wanted to devote a whole blog post to Elephant poop.
I was struck with the realization that Electronics also starts with E. This morning, there was the rather typical electronics struggles going on in our house.
I woke up at 6:01 when Lauren turned on the TV. At 6:02, I heard a familiar sound coming from the laptop in the living room -- she was already logging on to one of her favorite websites. As the morning continued on, I noticed how much of my time was devoted to electronics. I told Lauren to turn off the TV because she had already watched for two hours. I asked for a turn on the laptop computer so that I could show Tim something online. I helped Lauren get to another level on a computer game. I hunted until I could find Lauren's iPod and the set of earbuds that go with it. I tried to get another turn on the computer so that I could check something before we left for church. And so on.
I have a love-hate relationship with our electronics. I'd be lying if I didn't admit that there's something great about Lauren turning on the TV at 6:00 on a Sunday morning instead of waking me up. On the other hand, I hate how her attitude for the rest of the day often goes downhill after starting the day with a television show (or two or three). I appreciate the educational practice she gets when playing a lot of online games, but I get frustrated with trying to coordinate who gets a turn on the computer and when. I love blogging, but I also realize that I often neglect to do things around the house because I'm wasting time online.
I don't know any answers to my electronic frustrations. I know that I'm not in favor of a complete electronics ban, but I also know that I'm not in favor of giving my children free reign to watch TV, play video games, and surf the internet as much as they want. I don't exactly know what I think about my own electronics usage. I do know that I was bothered about all of the electronics commotion today.
There you have it. E is for Elephant Poop and Electronics. I'm not sure if there's a correlation. Then again, I'm not 100% certain that there isn't.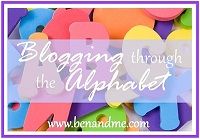 I'm excited about what comes to mind to share as I blog through the Alphabet with my friend Marcy at
Ben and Me
. Please stop back each week to see what I'm sharing, and click the banner above if you'd like to see what other bloggers have on their minds this week.