A few weeks ago, I heard a story at church about a spilled cup of coffee. It reminded me of a spilled coffee instance in my own life, probably about four years ago. As I remember this story, I am reminded of the way God loves me, takes care of me, and provides the strength I need to keep going, even when my cup of coffee spills in the parking lot.
Tim was out of town one weekend in October about four years ago. Lauren was 2 years old, toddling around the house despite having her right arm in a cast. That Sunday morning I was quite proud of myself -- I had all three kids ready to go to church (on time) and was even wearing a pair of cute heels with my dress. As I gathered the last of our bags to walk out the door, Lauren started down the steps. Somehow she missed the last step or two, and I couldn't get there fast enough to catch her.
I could tell immediately that she had injured her left arm. (It's hard to catch yourself when you fall down stairs, especially if you're out of balance because of a full arm cast.) I called friends that lived a few blocks away and asked if they'd take Brennan and Addison to church with them while I took Lauren to the Emergency Room on the other side of town. A few hours later, I saw the x-rays showing just how badly Lauren's left arm was broken.
Unfortunately, Lauren's broken arm wasn't an easy fix. She needed surgery to push the bones back into alignment prior to getting a cast. The broken bones weren't a big problem and even the surgery wasn't a big deal. Anesthesia was. At that time, her heart and lung problems meant that she needed special anesthesia precautions and observation afterwards. We drove back home to pack our overnight bags and then headed off to Philadelphia (three hours away). We trusted the cardiac anesthesia team at CHoP and the Cardiac ICU team that would be watching over her after the surgery.
It must've been late Sunday evening when Lauren and I finally settled into a hospital room on the cardiac floor, and she had surgery the next morning. The orthopedic surgeon straightened the bones in her left arm and put on a bright pink cast. Thankfully, he felt that the other arm was healed sufficiently to remove the cast. She did wear a brace to protect it for a few more weeks.
Because of her unstable heart condition, she required a precautionary overnight stay in the ICU following any procedure. The ICU was particularly crowded at that time, and the only bed they could find was in one of the "pods" -- a large room set up with four beds, normally only used for the tiniest babies.
Bright and early the next morning, Lauren's cardiologist called to get the discharge papers finalized. They needed her ICU bed for other patients and she was discharged before 8 am. (That's nothing less than a hospital miracle in itself.)
We headed home. In the previous few days, I had spent hours in the Emergency Room in Washington DC, driven to Philadelphia, spent one night trying to rest on the couch in Lauren's hospital room while she refused to get into the crib, wheeled her into surgery, spent another night napping on a couch in the family lounge (no room beside her bed in the ICU), and then getting in the car to drive three hours home.
I stopped about halfway through Maryland. I unloaded Lauren (with one arm in a splint and the other in a cast) and carried her into the rest area to get a cup of coffee from Starbucks. I held my warm cup of caffeine and led Lauren back to the car, confident that we could make it home safely. While I was trying to fasten her in the car, though, a gust of wind blew over my skinny vanilla soy latte. I cried. I was tired, and I hadn't even taken the first sip yet.
I didn't go back into Starbucks to get another drink. I just couldn't bring myself to unbuckle Lauren and go back inside. I continued the rest of the way home to Virginia relying on God to give me the strength I needed.
I remember that weekend and many other times in Lauren's young life when God provided strength, encouragement, and most of all hope.
Somehow as the years have passed, I've forgotten those lessons. Sometimes I think I need to rely on my own strength to juggle doctors' appointments, homeschool curriculum choices, meal planning, and cleaning the bathrooms.
God is the same yesterday, today, and tomorrow. The God that provided the strength that I needed for a long drive without my cup of coffee is the same God that will gives me strength to get up tomorrow morning and teach my children.
One of these days I will remember better. I will remember that God always provides and that I never have to rely on my own strength.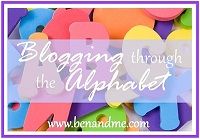 I'm linking this post with the Blogging Through the Alphabet Series at Ben and Me -- C is for Coffee. I know that many people expected me to post "C is for Cristi" this week, but I share enough little things about myself. Tonight I chose to share my heart.