Last month I joined a group of bloggers that link up at
Journey to Josie
to share pictures of the first day of the month. I'm excited to find a way that will allow me to capture the normal everyday moments without having to stress about taking a picture every single day (the popular 365 plan).
These pictures don't necessarily represent an average day around here, but they do a good job of representing a fairly average weekend. We're still trying to see as much of our new hometown as we can. We know all too well that our weekends will start getting busy and that before we know it we'll be stressing about having to move again without seeing everything that we wanted to do.
In honor of "International Vulture Day"
Lauren thinks the giraffe is saying, "I love you, food."
Lauren was happy to see an elephant poop. I preferred seeing the baby elephant follow after his mother.
Isn't the baby flamingo just the cutest thing ever?
Quiet time with a new book
Marco....
We'll save this one for blackmail someday.
Grilled pork chops for dinner
the view from our apartment (well, the parking lot)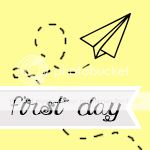 I linking this post with all the others at
Journey to Josie
, and I look forward to sharing more pictures in October. Click the cute paper airplane button if you'd like to join us.