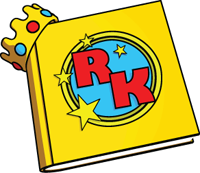 I was first introduced to Reading Kingdom about a year and a half ago when both Brennan and Lauren used it. (That review can be found
here
.) At the time, Brennan was at the upper end of the appropriate age range and Lauren was at the lower end. I was very impressed with the program, but Lauren seemed a bit too young for it at the time. The program is a much better fit for her now.
What is Reading Kingdom?
When I reviewed
Reading Kingdom
a year and a half ago, I erroneously referred to it as a whole word approach to learning to read. It is far more than just a program that teaches sight words, though. It uses a comprehensive six-prong approach to teaching reading and literacy skills.

Reading Kingdom excels by working on all six skills simultaneously. For a single lesson, Lauren learns to read (identify) a new word, type it correctly, and then works on understanding and using it in sentences. The lessons provide plenty of practice with all of the words she has learned previously, too.
What does Lauren think?
Honestly, Lauren's not a big fan of this program. Many of the activities repeat themselves from lesson to lesson with only the target word changing. Some children would thrive in a setting where they learning new words using a familiar interface. Lauren has always been a "something else" type of child. When she was three, I'd ask her what game she'd like to play and her answer was "something else." She always wanted something different than what she had played with the day before. I suspect that her reluctance to use Reading Kingdom is due to the fact that so much of it looks similar to the way it did the day before.
What do I think of Reading Kingdom?
I'm a big fan of this program, and Lauren will continue working through the lessons, even if this isn't always the computer activity of her choice.
I really appreciate the way that Reading Kingdom works on both reading and writing words simultaneously. Lauren must be able to spell the word before she can move on to the next lessons, not just be able to decode the words. In that sense, she's working on spelling skills as much as she is reading (decoding) skills. As a mini-test of this spelling practice, I asked her to write some of the words that I had seen her type on the computer. She remembered how to spell "walk" one day, but misspelled it the next day. She was able to write "rocket" correctly. Neither of these words are considered mastered by the program so I suspect she will be able to consistently spell them correctly when she has more practice with them.
spelling the word "kids"
I'm also impressed with the way RK is set up in such a way that she has to pay attention to details. Even in the activities where she is not typing the words, she must pay close attention to the differences among the answer choices.
Notice the similar choices: fly, fey, sly
While Reading Kingdom primarily focuses on reading and writing, I appreciate the way that basic grammar concepts are covered as well. The student is required to start every sentence with a capital letter and end with an appropriate punctuation mark.
The student must choose "Can" versus "can" to begin the sentence.
My bottom line:
Reading Kingdom
is a fabulous program for beginning readers. It builds a wide range of literacy skills simultaneously, requires students to pay close attention to their reading materials, and gives students a solid foundation for reading and writing.
A subscription to Reading Kingdom is free for first 30 days, and then either $19.99 per month (no minimum) or $199.99 per year. They offer a discount for multiple children in your family and have a scholarship program for qualifying families.
Disclaimer: I received a one-year license to use Reading Kingdom as a member of the 2012 TOS Homeschool Review Crew, and I received no other compensation. In return, I agreed to give an honest review of the materials and how they worked for my homeschool family.