After thinking (and thinking) about this review, I've decided that there's no way to talk about it without admitting that I am a nerd.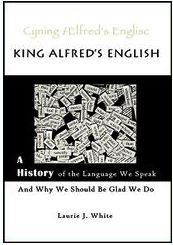 King Alfred's English: A History of the Language We Speak and Why We Should Be Glad We Do
by Laurie J. White is both the most scholarly book that I've read lately and the most fun. It contains a great synopsis of Western History and the History of Christianity all wrapped up with a close look at how these factors influenced our language.
While reading this book, I learned why knight is spelled the way it is, why (and how) languages change over time, why the English dictionary has far more words in it than a dictionary for any other language, and why Shakespeare is regarded as such a master wordsmith.
Laurie White writes in a conversation style that I found easy-to-read. I particularly enjoyed all the tidbits of interesting information that were included with the history stories. I often found myself interrupting my husband's studying so that I could share something that I had just read.
As I read the book, I kept having "ah-ha!" moments. I was reminded of lots of people and events that I studied in my college Western Civilization classes, and a lot of the pieces finally clicked into place. I really love the way that this book traces both the political history and the religious history of the times. I've now seen how closely the two are intertwined and I cannot imagine studying either one by itself.
My fourteen-year-old read this book and agreed that it was very enjoyable. She particularly liked the passages like the one where scriptures were printed in Old English with a word for word translation. She recognized many of the words, even though our language has changed significantly since 800
AD
.
I found this book entertaining, but it would also be an excellent addition to any middle-school or high-school history class. The author has excellent student and teacher materials that are available on her website free of charge. When I read back through this book a second (or third time), I may use the worksheets for myself so that I can keep all of the countries and times straight in my mind. With the supplemental information and resources on the website, this book could be the spine for a 1/2 credit history class.
King Alfred's English is a book I'd recommend for anyone, even if you aren't a nerd. You can find more information at
The Shorter Word
website and purchase a copy at various online retailers. The regular retail cost is $16.95 (or $5.95 for the Kindle version). If you're interested in purchasing a paperback copy, I have a coupon code for 50% off that I can send to the first four readers to comment on this blog post.
Disclaimer: I received an electronic copy of King Alfred's English as a member of the 2012 TOS Homeschool Review Crew, and I received no other compensation. In return, I agreed to give an honest review of the materials and how they worked for my homeschool family.