One of our favorite companies for finding hands-on history activities is
Home School in the Woods
. In the past, we've used their Lap Paks to study "The 20th Century in America" and "U.S. Elections." For our latest review, though, we didn't study a particular historical event or time period. Instead, we have been using the
HISTORY Through the Ages Timeline Trio
so that Lauren can get a better grasp of how different historical events overlap and interact with each other.
Lauren has worked with timelines a bit in the past, but we've never done a big timeline that captured events for more than a single unit study. This timeline set is able to handle all of her history studies for the rest of her school days.
I unwrapped the
HISTORY Through the Ages
book and was immediately impressed with the quality of this timeline. It is a 12.5" x 9" hardcover binder that allows the included cardstock pages to lay flat when working (or browsing) through the dates. The pages are preprinted starting at 5000 BC and go through 2025 AD. The scale of the pages varies with some of the earliest pages covering 500-1000 years and the most recent pages only covering 5 years.
Before jumping into the historical figures I wanted to help Lauren personalize the timeline book and make it her own. She's a bit obsessed with American Girl dolls, and she's actually learned quite a bit about history by reading them. I have a set of American Girl stickers that includes all of the historical dolls, and I suggested placing them on the appropriate dates so that she could see where their stories overlap with other events. Unfortunately, she refused to use the pretty stickers for a school project; she wants to save them for something fun. (In the end, I decided not to push the issue because she's actually quite proficient at remembering which character belongs to which time periodin American history.)
I then suggested writing family member's birthdays in the timeline. The other night we were talking about her great-grandmothers and all the historical events they have lived through. I thought it would be fun to put their birthdates in the timeline and then see which events happened during their lifetimes. Again, Lauren refused. Apparently she didn't think adding family members birthdays was schoolwork and obviously a new history product was schoolwork. In her mind, I should never expect schoolwork and not-schoolwork to meet in the same project. (Again, I let this argument go. We won't put birthdates in the timeline, but I can still talk about them.)
We settled down to simply use the
Collection of Historical Timeline Figures
for Lauren's timeline binder. There are over 1,260 gorgeous black & white timeline figures included in the CD set (or also available as downloads). I've primarily been using the first CD because it includes the digital files for timeline figures that are appropriately sized for the timeline notebook. The second CD includes individual files for each timeline figure so that they can be resized and added to documents or projects as needed.
Earlier this summer, Lauren read a few books that contained quite a bit of American History facts. I told her that we needed to put them in her timeline so that she wouldn't forget them when we started a formal American History program this fall. The timeline figures are organized chronologically so I just needed to print a few pages. The figures are available either with or without the accompanying text. I chose to use the ones with the text so that Lauren (and I) could have a quick review if we looked back at a historical figure or event we had forgotten.
Lauren balked at the idea of coloring the timeline figures. The detailed black-and-white drawings can be colored, but I don't think it's absolutely necessary. Since coloring isn't one of Lauren's favorite things to do, we agreed that they looked fine without being colored.
When it came time to glue the figures into the timeline binder, I was so, so thankful for the Suggested Placement Guide. I've used timelines in the past, and I've been paralyzed when it came to gluing things down, especially if I didn't know what I'd want to add later. "What if I glue down Christopher Columbus right here and then I run out of room to add the other explorers?" The placement guide shows how all the HISTORY Through the Ages timeline figures will fit into the timeline binder. I simply looked up the correct timeline page and saw how the figures would fit.
Once we glued down all of the timeline figures that Lauren read about earlier this summer, I decided to get a jump start on preparation for next school year.
The Timeline Figures CD contains lists of all the figures on it, organized chronologically within large categories of time. I printed the list of figures for American History and also for the two Biblical periods (Creation to Christ and Resurrection to Revelation).
I then printed out all the early US History figures we will need for this coming year, approximately 20 pages worth. Those sheets are stored in sheet protectors in a binder so we can find them easily. I'm also reading through her textbook materials so that I can mark when we'll come across a figure to put in the timeline. My goal is to keep the timeline current as we go instead of having to play catch up and glue in a bunch of figures all at once.
This year, Lauren schoolwork isn't going to be as hands-on as it has in the past. The
HISTORY Through the Ages Timeline Trio
is a perfect addition for us right now. It will allow me to show Lauren how the events she reads about in her history textbook fit together to show a bigger picture. My plan is to quickly cover the basics of American History using a textbook approach, and then circle back to do some in-depth studies of the time periods she finds most interesting. When we do that, I'll definitely be looking at some of the Home School in the Woods hands-on history options. I'm particularly looking at the
Time Travelers American History Studies
which would allow us to spend more time studying the American Revolution, the Civil War, the Great Depression or other time periods. (Some of the options have corresponding American Girl dolls and books, which would be a huge bonus in Lauren's world.)
I am also looking at the new
A La Carte
options from Home School in the Woods. They have approximately 50 smaller projects that would be perfect for adding in on a week (or even a day) when we have a little extra time to devote to a hands-on project. I found at least a half a dozen file folder games that correspond to the early American History time period that Lauren will be studying this year, all of them costing less that $5 a piece.
Other Homeschool Review Crew bloggers have been using Home School in the Woods products lately. I'm particularly interested in hearing what they thought about the
Time Travelers American History Studies
and the
Hands-On History Activity Paks
. There just might be room to squeeze in
Hands-On History Activity-Pak: The New Testament
or
Hands-On History Activity-Pak:Make-a-State
for Lauren this year. Click on the button below to see all the reviews: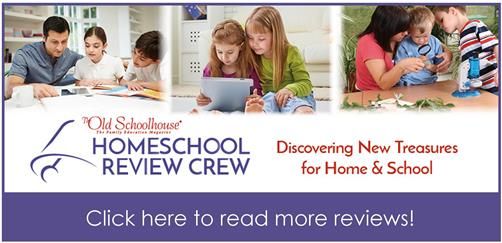 ©2009-2017 Through the Calm and Through the Storm. All rights reserved. Photos and content may not be reproduced. http://throughthecalmandthroughthestorm.blogspot.com