I know that some states require that homeschool students study health and wellness. As far as I know I do not have to teach any specific health topics. It is something that I have wanted to add to our homeschool days for the past few years. Recently we've been using the
WAY Comes Home Kit
from
HomeSchool Scholastics, an i4 Learning Company
.
Our kit came with a wide assortment of printed materials and supplies: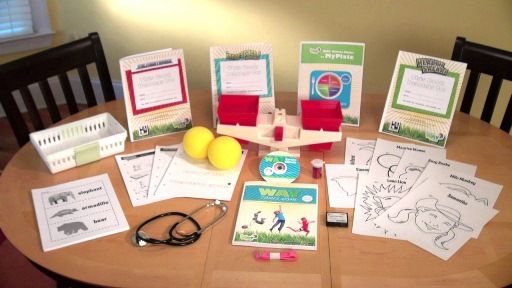 The WAY Comes Home program is geared to elementary ages and has completely different materials for each age group. Our box included three different journals -- one geared for grades K-1, one for 2-3, and one for 4-5. The printed materials for vocabulary and other activities also include pages for all three levels.
The materials in the Parent Guide have separate age-appropriate options for each module. I opted to go through the Me Mysteries (2nd/3rd grade) materials with Lauren and will go through the more advanced materials at a later time.
Lauren enjoyed the video introductions to each of the modules and loved getting to personalize her journal by decorating it herself.
Lauren was a bit confused, however, with the way that the journal was set up. Within the Me Mysteries journal, some pages were intended 2nd graders and others for 3rd graders. I picked which specific pages I wanted Lauren to complete during the lesson, but she was thrown off by leaving some blank. I'm not sure it is necessary to have differentiated instructional pages in the journals for each grade levels when it only covers two elementary grades.
I was impressed with the wide range of journal activities offered for student. For the introductory lesson, Lauren drew pictures of her activities throughout the day, and then she answered questions in her journal that encouraged her to reflect on them.
Our equipment kit included everything needed to teach the five lessons, including foam balls for a game activity, a stethoscope for listening to heartbeats, and MyPlate reference guides for nutrition. There is even a balance scale to visualize the relationship between energy input (food) and energy output (physical activity).
The Parent Guide (144 pages long) gives a wide variety of ways to expand the lesson materials, and I could easily have doubled the time we spent on each lesson by adding in some of the optional books. Perhaps more impressive is the way that each lesson gives suggestions for including older or younger students (or both). So far, I've just included Lauren in the lessons, but I can see how some homeschool families or even co-op groups would like to use these materials with a wider range of children.
I appreciate the way that these materials come with everything I need so that I'm not rushing around during the lessons trying to find supplies. I also appreciate the way the curriculum is designed for a parent to adapt it as needed so that it will fit the family's need. For instance, I've chosen to skip the activity about balancing food intake and activities because the scale activity won't necessarily show Lauren that she needs to increase both her food intake and her activity level.
The
WAY Comes Home Kit
costs $39.95, with extra journals available for $2.49 each. The materials in our kit covered all of the activities for five modules.


©2009-2016 Through the Calm and Through the Storm. All rights reserved. Photos and content may not be reproduced. http://throughthecalmandthroughthestorm.blogspot.com
Save
Save
Save
Save