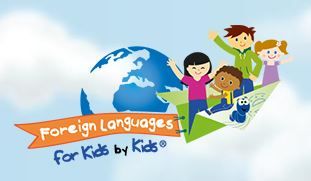 When Addison was in high school, she studied several different foreign languages -- German, Chinese, Sign Language. Thankfully, she didn't need much of my help with any of these. I studied Spanish for several years in High School but don't remember much.
I'm now learning Spanish again with
Foreign Languages for Kids by Kids
. Lauren (our rising fifth grader) is enjoying the
Starter Set 1
as she learns some Spanish phrases, and Brennan is using it as a fun introduction before he starts a serious high school course this fall.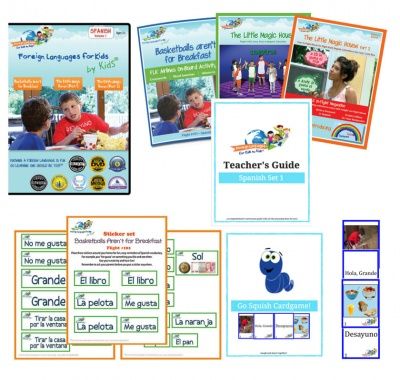 Foreign Languages for Kids by Kids excels in making learning languages fun. The strongest part of the program is the video instruction which immerses the student into Spanish speaking situations. I thought the video reminded me of an episode of Sesame Street in that the background and characters changed frequently. It's all one big story, but there are many separate clips that illustrate the concepts (similar to the way that kids talk to Big Bird in one scene and then it cuts over to Cookie Monster counting and then on to something different).
We've primarily been watching "Basketballs are for Breakfast." Most of the story takes place as three brothers sit down around the breakfast table. (Foreign Languages for Kids by Kids only shows kids in the videos, but the mom was off-camera cooking eggs.) When a child used a new Spanish word, the video switched to another scene that helped the viewer decipher it. For instance, the main character asked, "¿Donde está Andy?" and the film switched to an outdoor scene with a girl repeatedly asking "¿Donde?" during a game of hide-and-seek.
In addition to a DVD containing the first three Foreign Languages for Kids, we also received three student workbooks, a set of flashcards, a set of stickers with vocabulary words, and three teacher guides (one for each video). By following the lesson outlines and activity suggestions in the teacher guides, the three videos will provide the backbone for fifty Spanish lessons.
I found these Spanish videos to be fascinating. One of my Spanish teachers refused to speak any English at all, and I perhaps learned more from him than from any of my other language teachers (including my college French professor). By being immersed in a new language, I was forced to figure out the meanings of words. Thee words I deciphered meant more to me than any of the words I tried to learn simply by memorization. As I watched the videos with Lauren, I resisted the urge to tell her what the word meant. Sometimes I gave her hints to help her think through what was going on in the videos, but I didn't just tell her the meaning. (The videos do an excellent job of providing enough clues to figure out the meaning; she just struggled a bit to come up with more than one possible idea if her first thought didn't quite match what was going on.)
Lauren enjoyed watching the videos, but balked a little at watching the same video more than one time. She falsely believed that she had picked up all of the vocabulary and concepts after a few viewings, even thought I knew she hadn't mastered the material. Thankfully, the student workbooks allow me to extend the lessons by showing the video (or part of the video) and assigning a page or two for her to complete. The next day, she watches the video again "as review" before moving on with more workbook activities.
Despite Brennan's grumbling the video being intended for an elementary audience, he did learn a few Spanish vocabulary words and phrases when he watched it. It gave him a boost of confidence going into his high school class because he could understand the general idea of the story without knowing any Spanish at all beforehand. I saw firsthand the benefit of him having to figure out the meaning for himself versus having it spoon-fed to him. Although we won't be using these videos as the only source of instruction for his high school language credits, I'll make sure that he watches them at least a couple of times each.
The
Spanish Starter Set 1
costs $140.25 and includes the DVD with first three videos, three student workbooks (one per video), flashcard set, sticker set, and three teacher/parent guides.
Foreign Languages for Kids by Kids
also offers a membership option that allows you to stream videos online instead of purchasing the DVDs.


©2009-2016 Through the Calm and Through the Storm. All rights reserved. Photos and content may not be reproduced. http://throughthecalmandthroughthestorm.blogspot.com