I've recently noticed that I'm far more successful with teaching Lauren when she's interested in the subject material. I was thrilled to hear about a way that I could incorporate Lauren's love for music into our school days. (Studying music also helps alleviate my guilt about not making time in our days for fun subjects.)
The
Music Appreciation Book 1: for the Elementary Grades
package from
Zeezok Publishing LLC
is absolutely amazing!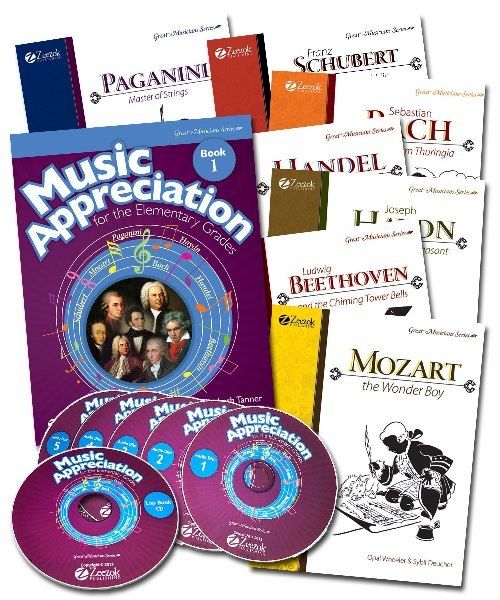 We received the complete package with a Music Appreciation work text, the biographies of all seven composers, five CDs of music, and pdf files for the lapbook activities on another CD. According to the publisher, it's perfectly okay to start with any composer so we chose to start with Handel. (No real reason other than the fact that I think I have a story CD about Handel that I could add to our lessons.)
From a teacher standpoint, I love the way the materials are organized. The weekly checklist of activities keeps us on track and also gives me the flexibility to divide the assignments to do more on some days, less on others.
Each week starts with reading a chapter out of the corresponding biography. Lauren and I loved reading these books together. The biographies included enough interesting tidbits from the composer's life to make the story come alive, but not so much detail that Lauren got lost in the readings. For instance, she has often remembered that Handel would sneak up to the attic late at night and practice playing his spinet in the cold. She also remembers the story of Johann Sebastian Bach walking from Leipzig to Halle, Germany so that he could meet Handel and missing him by only a few minutes. (Lauren says we should therefore study Bach next.)
I read the selections from the biographies aloud to Lauren and found that they lent themselves well to being read-alouds. I didn't find myself stumbling over words or awkward phrases the way I do with some books I've tried to read lately. According to the readability scores for a few passages, they are written at roughly a sixth to eighth grade level. The books area also nicely illustrated with enough pictures to engage Lauren's interest while I read and to add to the story lines. Budding pianists will also find the music for simplified versions of Handel's music. The same pieces are included on the music appreciation CDs.
After reading a chapter from the biography, Lauren and I worked on the comprehension questions together. There were a nice mixture of simple facts to remember and some thinking questions. For instance, a question regarding chapter two asked, "At the end of this chapter, what evidence do we have that Mother Handel supported George's musical efforts and desires?"
After reading the biography, we listened to music selections, added activities to her lapbook, and studied some general music concepts.
Not only does this curriculum introduce famous composers, it also gives elementary students a solid introduction to general music concepts. In our study of Handel, we also discussed instruments (the spinet and the oboe), dynamics (forte vs. piano), tempo, timbre, and more.
I am very impressed with this curriculum. It is so much more than just a study about a single composer. As we read Handel's biography, we talked about how particular incidents in his life illustrated admirable character qualities. For instance, Handel was
diligent
with his practicing his music and
undaunted
when he left his parents at the age of eleven to go study with music masters in Berlin. At the end of the month, we reviewed all the character qualities we'd talked about in the previous four weeks.
This music appreciation course from
Zeezok Publishing LLC
is perhaps Lauren's favorite thing we've studied this year. It's been a wonderful addition to our school days!
The complete
Music Appreciation Book 1: for the Elementary Grades
curriculum costs $169.99 and is suitable for elementary students. I'd recommend it most for older elementary students, probably fourth through sixth grade students. A second volume,
Music Appreciation Book 2: for the Middle Grades
, is in the works and will be geared to the middle grades (fifth through eighth).


©2009-2016 Through the Calm and Through the Storm. All rights reserved. Photos and content may not be reproduced. http://throughthecalmandthroughthestorm.blogspot.com