I've often thought that Lauren would be more interested in doing schoolwork if it was a subject that she's interested in. My problem is that I can rarely find anything that she's really interested in learning about or doing.
Then she heard about
Stopmotion Explosion
, and she begged to be able to review their
Animation Kit
.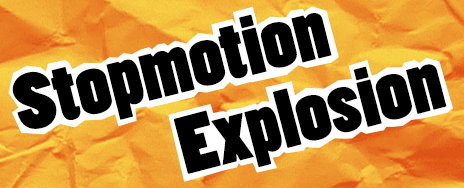 Lauren has been fascinated with stopmotion animation for a few years. In fact, she created a stopmotion film with her American Girl dolls last year for the Leadership Training for Christ competition.
For those new to the Stopmotion world, stopmotion is a form of animation that combines still photographs to make a moving picture. It's the way same way Gumby was done years ago but made much easier with computerized editing software. Lauren prefers to use her American Girl dolls for her videos, but it's easy to do stopmotion with almost anything. Many of the examples in the book use Lego minifigures.
The Animation Kit comes with a 720p HD video camera, a 290+ page Stopmotion Explosion book, and animation software.
Our kit came while Lauren was in the hospital recovering from her latest episode of rejection. It brought her a great smile and encouraged her to do something (anything) other than watch more Minecraft videos.
It was easy for Lauren to pick up the book, flip through some pages, and find new things that she could learn. One of the first things she saw was a chapter on adding audio to the animation. She told me, "I wonder if Stampy read this book and trimmed the silence out of his video." (Stampy is one of Lauren's favorite people on YouTube, and his videos are so fast paced that I don't think I've ever heard him take a breath.)
Lauren doesn't have the computer experience to navigate through installing the animation software and downloading the other programs she needs, but I found it fairly straightforward with plenty of support from the Stopmotion Explosion website.
Lauren and I have been reading through the
Stopmotion Explosion book
together, but she went ahead and jumped in to start animating.
Lauren's previous stopmotion attempts involved putting our camera on a tripod and then taking pictures of her American Girl dolls. The camera that came with our Stopmotion Explosion kit connects to a computer via USB cable and clips easily to our laptop. That means that Lauren is working with pictures on the computer screen instead of working with the smaller viewfinder on our regular camera.
Lauren was thrilled to use the new animation software with the camera because it gives her a shadow outline of the previous picture she took. She uses those guidelines to ensure that her dolls are still in the correct positions for the next picture.
After weeks of having dolls and computer equipment set up in our living room, we are all thrilled to share her newest video.
I'm impressed with the materials that are covered in the book. It teaches the entire process for making a quality stopmotion animation video. It starts with basic animation information, moves into writing screenplays, discusses lighting techniques, shares special effects tricks, and then teaches how to publish a completed film. At times the information has been a bit too advanced for Lauren, but I was easily able to skip over some of the details when we were reading.
Lauren's video is a great first attempt, and she's already talking about how to do it better next time. For instance, she learned that she needs to pay attention to the background and what else is in the photographs she takes. When she was filming, she plugged the laptop charging cord into a wall outlet where it ended up showing in the video. She says she'll watch for those details when she films next time. She also talks about how the ambient lighting affects the videos and causes it to flicker a bit between frames.
In the past, Lauren hasn't been very receptive to my suggestions for improvement. Having the Stopmotion Explosion book is wonderful because I can refer back to it and what information it offers for making better videos.
Lauren has loved working on her stopmotion film, and the Stopmotion Explosion kit helped us make it into a true learning experience.
The
Stopmotion Animation Kit
costs $79 and includes software suitable for either Windows or Mac computers. If you already have good camera to connect to your computer, you can purchase the
Stopmotion Explosion: Animate ANYTHING and Make MOVIES
book separately for $24.


©2009-2016 Through the Calm and Through the Storm. All rights reserved. Photos and content may not be reproduced. http://throughthecalmandthroughthestorm.blogspot.com