Last week's 34 Weeks of Clean challenge turned out to be a bigger task than I first thought.
"Kitchen Cabinets and Drawers. No big deal." That is, until Michele included junk drawers in the assignment. I can't argue that our junk drawer isn't in the kitchen, but it's completely on the other side from all the rest of the cabinets.
I jumped in to get the junk drawer out of the way first.
Before:
After:
Since I was already on that side of the kitchen, I continued on and attacked the cabinets above and below the junk drawer. They weren't completely "junk cabinets" but they were teetering awfully close to that description.
Before:
After:
The polish pottery soup tureen looks out of place in the top cabinet, but it holds all of the medicine syringes and makes sense (at least to me) to be there.
A few of the drawers were fairly easy -- one has only a few hot pads and trivets, another has towels and dishrags. My spices were also well organized. I did them one day around Christmas time because they were all out of order and driving me batty. Confession: I have a thing for alphabetical order, and all the little bottles on the bottom shelf were mixed up on the lazy susans.
My biggest challenge was culling through all the miscellaneous kitchen utensils and gadgets that multiplied when I wasn't looking.
In one of the drawers:
Most of the collection gathered in one spot:
Some of them went in the trash, some are set aside for a church garage sale, and some are set-aside in a "just-in-case" basket. I was a bit zealous in paring down things, and I gave myself a small container in a cabinet for things I'm trying to live without. (This way I can rescue them instead of having to buy replacements if I change my mind in a few weeks.)
After:
I pulled out the label maker to put measurements on some faded measuring spoons, and I may have gotten a bit carried away with the labels on the tool turn-about. It's helping to keep some frequently lost items in an easily found spot.
As my final task of Michele's cleaning challenge, I even cleaned out the cleaning supplies under the sink.
While I was taking pictures, I took one more to prove that I was able to maintain a clean, organized pantry for another week in a row. It was a happy morning this week when I realized that Lauren's step stool could fit in there instead of just getting kicked around in the kitchen.
If you'd like to join me with the challenges, you can find Michele's posts on her
Family, Faith, and Fridays blog
, on
the Facebook page
, or by clicking the button below. She posts a new challenge every Friday and will also be hosting a weekly link-up for any other bloggers who are brave enough to share pictures of their progress.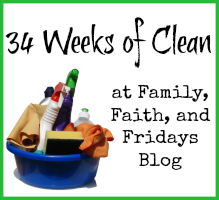 ©2009-2015 Through the Calm and Through the Storm. All rights reserved. Photos and content may not be reproduced. http://throughthecalmandthroughthestorm.blogspot.com