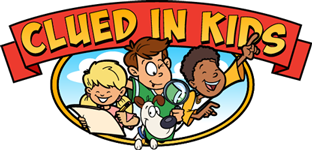 Tonight's homeschool confession -- I stink at being a "fun" homeschool mom. I did a little better when all of the kids were younger, but somewhere along the way, I gave up on cute crafts and fun games. It always seemed like it took longer for me to prepare everything than it did for the kids to complete the activity.
Clued In Kids
made it easy for me to add some fun to Lauren's homeschool days recently. Clued In Kids makes treasure and scavenger hunts that combine learning with fun. Best of all they make it so easy for parents that even I was able to do several hunts.
Lauren completed several of the hunts included in the
Multiplication Dragons Treasure Hunts package
and the
Happy Tummy Printable Treasure Hunt
. We loved them all!
Our first Clued In Kids treasure hunt was one from the Multiplication Dragons set. It contains separate treasure hunts for each times table from 2x up to 6x. (I heard a rumor that another set to cover higher numbers is in the works.)
After I printed the treasure hunt clues, I read that it should only take 8 minutes to set up. I didn't set a timer, but that seems accurate to me. I cut apart the clues, and then followed the directions that told me where to hide them. All of the hiding places are fairly common in any house -- under a table, near a desk, with the child's toothbrush, etc.
It took Lauren nearly an hour to solve all twelve of the clues and find the treasure in the mailbox (a small container of allergy-safe jelly beans). Along the way, she answered word problems involving her five facts, wrote out the answers to several multiplication problems, completed a maze, and found a hidden picture. The printable clues includes an answer sheet to help the treasure hunt leader if there's a problem such as a lost clue along the way. On the morning that Lauren was doing the 5x facts treasure hunt, I had to leave halfway through to take Brennan to the dentist. Addison took over for me and was thankful I had left the answers to help when neither of them could spot the hidden mailbox in the picture for the final clue.
On a different day, I set up the 6x facts treasure hunt for Lauren. I had followed her along as she did the first hunt and wondered if she could complete her second one independently. Again, it took less than ten minutes to print and hide all the clues. I settled in to fold laundry and let Lauren work by herself. She had fun running from one place to another all over the house. She only needed help a few times, and that's probably because I hid the clues in more difficult locations that day (in her top bunk bed tucked part way under the pillow, near a lamp that we rarely use, etc). It took her nearly an hour to complete the treasure hunt. An hour of fun (and learning) in exchange for ten minutes of preparation is a real winner in my book.
Our other treasure hunt was
Happy Tummy Printable Treasure Hunt
. Its description says that it's suitable for children with various food restrictions -- allergies, GAPS diet, gluten-free, etc. I was honestly skeptical about how a product talking about nutrition would work for a child with so many food restrictions. (Lauren is currently on an elimination diet consisting of no eggs, wheat, milk, soy, fish, nuts, or corn.)
This treasure hunt exceeded all of my expectations for a brief introduction to nutrition and digestion. The clues in this hunt covered the basic parts of the digestive tract, how the digestive system converts food into energy, how vitamins help your body, unhealthy food options, how nutrients are absorbed in the small intestine, and more. Several clues emphasized eating fruits and vegetables to keep your body healthy, but the only recommendation that was contrary to Lauren's current diet is the clue about beneficial fatty acids in fish.
Overall, we found lots of good information and very little that bothered Lauren in terms of her current limited diet. So many nutritional programs focus on eating foods that Lauren cannot have, and it was nice that I didn't have to reexplain to her why it was okay that she doesn't eat or drink dairy products. One clue did direct the child to have a healthy snack. I offered to help Lauren with a tube feeding (since it was about time for one), but she opted for an apple instead.
Lauren and I both loved our Clued In Kids Treasure Hunts!
She keeps asking me if she can do more, but I'm selfishly hanging on to the remaining multiplication hunts for a day when I need a little extra fun in our day.
The
Happy Tummy Printable Treasure Hunt
costs $5.99 and is suitable for elementary aged students. The set of 5 treasure hunts in the
Multiplication Dragons Treasure Hunts (2x-6x Tables)
costs $19.99 and is suitable for any student learning or reviewing their multiplication tables. Both of these products are downloadable pdf files that need to be printed.
Clued In Kids
offers many other Treasure Hunts, including ones corresponding to most major holidays. We added them to our homeschool day, but they'd be perfect fun activities for any elementary aged child. In fact, my niece and nephew will probably get the
Christmas Treasure Hunt Gift in a Greeting Card
as a gift from our family this year.


©2009-2014 Through the Calm and Through the Storm. All rights reserved. Photos and content may not be reproduced. http://throughthecalmandthroughthestorm.blogspot.com