It sometimes seemed like no matter what sort of instructions I gave regarding schoolwork last year, I'd hear the excuse, "But I didn't know you wanted me to do
that
." This year, Brennan has been using a
daily student planner
from
My Student Logbook
to keep up with his assignments, and I don't hear that excuse nearly as often.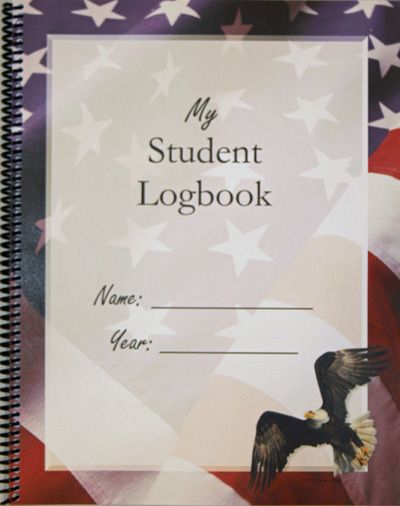 My Student Logbook is designed for the student to use on a daily basis. It doesn't take the place of the teacher's plans for the year, instead it translates my plans into an assignment checklist that Brennan can use on a daily basis. More importantly, it helps me to make sure that Brennan is actually completing all of his work each day.
The main thing that sets My Student Logbook apart from other planners is its simplicity. I wrote his subjects/assignments on a paper that attached to the first sheet in the book. It folds over the side so that dated part of the logbook is still showing. The student then marks off the boxes as he completes a page. As long as the subjects stay the same, the same flap of paper will work for the following weeks in the logbook. On Mondays, Brennan just tucks the next page into the flap and continues marking off assignments. If I ever change the assignments, I can fill out another checklist page and start using it to fold over the remaining pages in the book. (If you find my brief explanation confusing, there is a step-by-step
setup guide
with pictures on the My Student Logbook website.)
Brennan's Logbook is so useful for keeping up with his assignments that I can't believe I struggled for years without it. I don't have detailed lesson plans for our school year. I don't even have detailed plans for each week. Basically, I have a set amount that I expect to get done each day, and My Student Logbook helps me make sure that it was completed.
The Logbook works well for subjects that have an assignment due each day. For instance, "finish one math work page" or "read the assignment in your literature study." For those subjects, we often write down the page number so that I can have a general idea of where he is in the materials. Writing down the page or assignment number also helps me make sure that he did a different page today (and isn't hoping that I won't notice if he tries to show me yesterday's homework instead of doing a new assignment each day).
For a few subjects, though, we've determined that they'll only be done three or four days a week. The logbook excels in keeping up with courses like this. His weekly computer programming assignment usually only take three days to complete. I often forget how many times that he tries to tell me that he's already worked three days or that I've bugged him about an assignment on a day that he planned to take off, etc. With the records I now have in his logbook, I can easily tell if he can take a day off or if he needs to work on that subject. In the page shown above, I can tell that he needed to work on programming both today and tomorrow to finish his work for the week.
Brennan's schoolwork only takes the top half of the logbook page so we decided to use the bottom half to keep up with some of his work towards Boy Scout merit badges. He's been trying to get his Family Life badge for quite some time now, but it's been hard to keep up with the required chore checklist. He did all of his chores, but he didn't keep the records he needed for scouts. Now that the checklist is on the bottom of the page he's using for school, we're having a lot more success getting him to keep up with the chore chart. In another couple of weeks, he will have kept records for long enough that he can finally finish this badge.
The creators of My Student Logbook recommend using it for any student that can read their own assignments (approximately 2nd grade and up). It could be used by a parent or with a parent's help for even younger students.
My Student Logbook
comes in either a dated or undated formats and with a variety of cover choices for $15. It is also available as a pdf download for either $10 (single use license) or $20 (family use license).
Brennan's
My Student Logbook
has made a big difference in our school days. He knows what I expect in terms of his schoolwork, and I can keep track of all the assignments so that I make sure that they are all completed. I finally feel like I'm able to keep up with his schoolwork so that I won't be easily fooled by any of his attempts to get away with doing less than expected.


©2009-2014 Through the Calm and Through the Storm. All rights reserved. Photos and content may not be reproduced. http://throughthecalmandthroughthestorm.blogspot.com