For years Language Arts has been the bane of my homeschool existence. After years of searching for the perfect all-in-one language arts program, I gave up and decided to pick and choose for each particular aspect of language arts -- reading, writing, spelling, grammar, etc. The problem is that I found programs that took far too much time out of our schooldays. I couldn't devote thirty minutes to grammar if I wanted to make sure I didn't neglect other subjects.
Fix It!
Grammar
from
Institute Excellence in Writing
is a perfect fit for our family. Addison used a previous version of
Fix It!
, and I now trust her to proofread nearly all of my blog posts. (Chances are any mistakes or typos are because she wasn't available for editing purposes.) Lately, Brennan has been doing well with their newer (and much improved) version of the program. We have both the
Teacher's Manual
and
Student Book
for
Fix It! Grammar : Robin Hood [Book 2]
.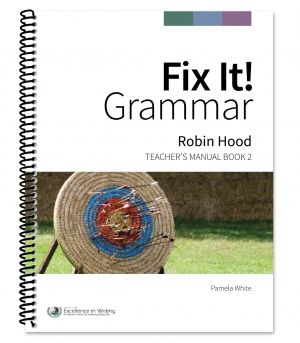 Brennan's
Fix It!
work each day takes ten to fifteen minutes per day. On Mondays, I typically spend five minutes working with him to introduce new concepts. He completes the other three assignments per week independently.
The main idea behind
Fix It! Grammar
is that grammar concepts and skills are best taught in context. In this case, the context is a complete story. Each day, the student has a sentence or two from the story to correct. There is also one bolded vocabulary word in each passage for the student to look up in a dictionary.
At the beginning of book 2, Brennan was expected to determine if the passage needed to be indented; to mark any letters that should be capitalized; to label nouns, pronouns, and articles; and to add appropriate punctuation marks at the end of the sentence. In week 5, he was expected to identify articles, nouns, pronouns, verbs, coordinating conjunctions, adjectives, adverbs, and prepositional phrases. He also adds commas, end marks, and quotation marks to each day's passage.
After he makes the corrections, I check over his work (using the answer key and explanations in my Teacher's Manual) and then he copies that passage into a separate notebook. As the passages are added, the story of Robin Hood unfolds.
IEW's
Fix It!
is perfect for our family. It's a perfect balance of short, to-the-point teacher instruction and independent practice. I like the way that the practice sentences build on each other in a cumulative fashion. Brennan doesn't learn about nouns in a single lesson early in the book and then forget about it for the rest of the year. Even in the last lessons in this book, he will still be labeling prepositional phrases.
I also love the thorough explanations in the teacher's manual. I remember studying clauses, various punctuation rules, and coordinating conjunctions. I'm not always confident in my ability to teach these concepts to Brennan. With IEW's clear explanations, I'll be able to explain why coordinating adjectives need commas but cumulative adjectives do not.
Brennan likes
Fix It! Grammar
because it only takes a few minutes per day and doesn't require very much writing. He also admitted that he'd rather find the parts of speech in sentences that tell a complete story instead of just random sentences on a worksheet.
Fix It! Grammar is available in six different levels, but they do not necessarily correspond to specific grade levels. It is generally recommended to work through the books in sequential order. (IEW offers a placement test for students with a lot of prior grammar instruction.) The first book can be used by students as young as third grade, and the last book is suitable for high school students.
Each Teacher's Manual costs $19 and the printed Student Book costs $12. (Note: the Teacher's Manual includes a code to download the student work pages for free if you don't mind doing the printing.)


©2009-2014 Through the Calm and Through the Storm. All rights reserved. Photos and content may not be reproduced. http://throughthecalmandthroughthestorm.blogspot.com