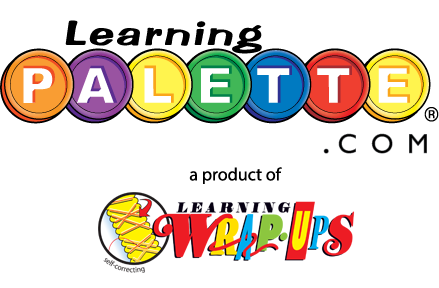 Sometimes I stumble across an educational company and have a flash back to a different time. I remember my little sister using Learning Wrap Ups to learn her multiplication facts about twenty years ago.
The
Learning Wrap Ups
company still produces the
math Wrap up Keys
that I remember and now also has Wrap Ups for Spanish, Science, Vocabulary, and more. They have also created a
Learning Palette system
that provides a fun, easy, hands-on way for younger students to practice basic academic skills.
In addition to the physical products Learning Wrap Ups offers, they have developed
LearningPalette.com
, a computerized version of the Learning Palette. Instead of physically moving discs on a plastic base, the student drags discs into the correct position online.
Learning Palette Online has both reading and math activities, divided into difficulty levels. The math activities span a Kindergarten through 5th grade range, and the reading activities cover Kindergarten through 3rd grade skills. All together, there are nearly 8000 questions in the program.
Lauren could easily navigate through the topics to find something that she was interested in. Earlier this week she chose this card from the math level 2 section, under the topic probability and statistics:
Learning Palette excels as a way to provide fun review. With so many topics to chose from, it was easy for me to pick out specific activities that I wanted Lauren to practice on.
For instance on the day we introduced the idea of multiplication in her regular math program, I chose a multiplication card for her to complete. (You can see that she's using some of her regular manipulatives to help work the problems.)
I also used the Learning Palette program as an informal evaluation tool. For several days in a row I had Lauren complete reading comprehension activities so that I could get an idea of what she struggled with. I am able to tell which cards she completes and how long she worked on them by looking at my teacher account, but I often watched over her shoulder while she worked so that I could get a better idea of how much she was struggling, how many questions she got correct on her first try, etc.
She said that some of her favorite reading cards were the ones where she tried to figure out the answers to riddles or jokes.
Since LearningPalette.com is an online subscription, we were able to access it from our iPad as well as from a computer. I actually think the activities work better on the iPad because she could use her finger to slide the discs into place instead of having to control the mouse (or trackpad).
From a teacher perspective, I love the way that this program provides reinforcement and practice activities for such a wide range of skills. Unfortunately, Lauren grew bored with the Learning Palette concept. She's always been a child in search of "something new." Many children will not mind that the screen basically looks the same from activity to activity, but Lauren craves new experiences when doing her schoolwork, especially if its a computer based program. I will continue to use our subscription to Learning Palette as a good option for review, even if Lauren won't tolerate using it every day.
A subscription to
LearningPalette.com
currently costs $25 per year for a single user or $60 per year for up to 5 users in a family. They are offering a 20% discount if you use the coupon code HOMESCHOOL.


©2009-2014 Through the Calm and Through the Storm. All rights reserved. Photos and content may not be reproduced. http://throughthecalmandthroughthestorm.blogspot.com