1. This weekend our youth group at church is participating in a youth rally at one of the other churches in the area, and I've got a roomful of girls at my house tonight. I think I got off fairly easy -- I'm pretty sure it's louder at the house with all the boys.
2. Addison decided on some of her school materials for next year, and we had a wonderful
Sonlight Box Day
on Wednesday. She decided on British Literature because so many of those books were already on her personal reading list.
3. It feels a bit odd to be looking at math programs for next year, almost like I'm being unfaithful. After finishing eleven levels of Math-U-See materials, Addison needed to find a Calculus class beyond what Math-U-See offers. Thankfully, we'll still have two Math-U-See students next year.
4. When I was on base the other day, I remembered that it's "
Mustache March
." The only problem is that military regulations regarding mustaches aren't very flattering, and I think everyone looks like they're trying to impersonate Hitler.
5. I'm still fighting my ear infection, and I still can't hear out of my left ear. I never knew that hearing loss could be so disconcerting.
If you'd like to join the Random 5 on Friday fun, you can either click on the cute birdhouse button below or visit
The Pebble Pond
.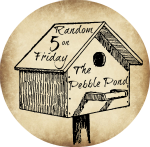 ©2009-2014 Through the Calm and Through the Storm. All rights reserved. Photos and content may not be reproduced. http://throughthecalmandthroughthestorm.blogspot.com