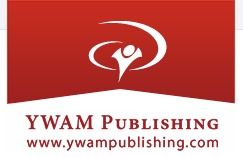 Sometimes I agree to do a product review because I'm curious about a new product or because I want to see if using a different teaching approach will work for my children. Other times, I jump at the opportunity to review a product that I already know that I'm going to love. We already have ten of the books in the
Christian Heroes, Then & Now
series by
YWAM Publishing
, and we were thrilled to receive a new one to enjoy.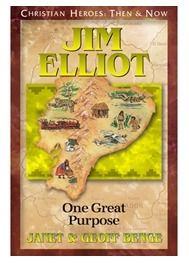 Jim Elliot: One Great Purpose
tells the story of a group of missionaries reaching out to the people in the Oriente jungle region of Ecuador. I know my children have heard the story of Jim Elliot, Nate Saint, and the three other missionaries in that region, but apparently they had forgotten how the story ends. They were quite upset when I mentioned something early on that gave away the ending before we got there. I'll try not to repeat my mistake.
One of the things we enjoy most about reading the Christian Heroes books is that we learn so many of the details of the missionary's life that we can almost feel like we're there with them. In
Jim Elliot
we felt the anxiety rising as the rain continued to fall and the mission buildings started slipping towards the edge of the cliff. We worried with Jim when their radio wouldn't work and they couldn't contact Marj Saint at the mission headquarters in Shell Mera. We shuddered when Jim and Betty talked about hundreds of roaches dropping out of the thatched roof above them in their new home at Puyupungu. We weren't just reading a story, we were living through the adventures along with the missionaries.
In addition to the
Jim Elliot: One Great Purpose
book, we also received the
Jim Elliot Unit Study Curriculum Guide
. This guide provides enough resources and ideas to expand
Jim Elliot: One Great Purpose
into a large unit study spanning many subject areas. We used the Chapter Questions to guide our discussion time after we read the chapters. I particularly liked the way that one of the four questions for each chapter was an open-ended question asking the student to form an opinion related to the book instead of just asking for the student to remember a specific fact. For instance, "Jim spent a lot of time talking to Nate Saint about life in the jungle. What are two questions do you think Jim might have asked him?" (
Jim Elliot Unit Study Curriculum Guide
, p. 16). The curriculum guide also contains essay questions, creative writing suggestions, hands-on project ideas, and arts and crafts activities. The book also gives ideas for planning a culminating event that allows children to share what they have learned during the study.
As we finished
Jim Elliot
, our question wasn't whether or not we will read another of the YWAM Christian Heroes books. The question is which one do we read first. The Christian Heroes, Then & Now series contains forty-one books, and each one looks exciting. (You can find a
chronological listing
of all the books on the YWAM website.) Some of our top choices include Elisabeth Elliot (Jim Elliot's wife), Nate Saint (a missionary pilot serving with Jim Elliot), and Rachel Saint (Nate Saint's older sister). Although we all now know how Jim Elliot's story ends, we think it would be interesting to hear the events from a different perspective and to hear what happened years later in that region.
Jim Elliot: One Great Purpose
is 192 pages long and is intended for students ages 10 and up. It costs $6.99 for either the paperback copy or for a digital copy (Kindle edition or Nook edition). The
Curriculum Guide
is 62 pages long and costs $7.49 (only available in paperback format).

©2009-2013 Through the Calm and Through the Storm. All rights reserved. Photos and content may not be reproduced. http://throughthecalmandthroughthestorm.blogspot.com