I value the time that I spend reading books to my children, and I search out high-quality books to share with them when it's my turn to pick the read-aloud. One of the books I read to Lauren recently is
Diary of a Real Payne Book 1: True Story
written by Annie Tipton and published by
Barbour Publishing
.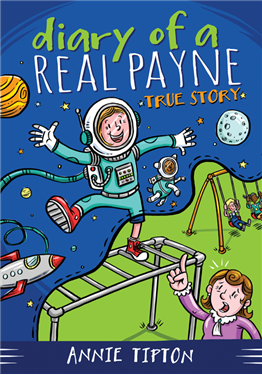 Diary of a Real Payne
is the story of EJ (Emma Jean) Payne, an opinionated fourth grade student living in a small town. Each chapter starts with an excerpt from EJ's diary. She writes about her family, her fears about a new school year, the Fall Festival at church, and her favorite Thanksgiving foods. Throughout the book, EJ finds herself daydreaming about amazing adventures she could have as the youngest race car driver, an astronaut taking a space walk, Queen Esther, a beekeeper, a stewardess on an international flight, and much more.
Like many chapter books for elementary students, this book is primarily a play-by-play description of some of the most entertaining aspects of EJ's life. Like many stories for elementary students, the book focuses heavily on description and doesn't have a lot of action. Lauren tends to enjoy this style of book, but I know that Brennan needs to have more action or suspense in the books he reads.
Diary of a Real Payne
shows the day-to-day lives of a family not afraid to live out their Christian faith. EJ's father is the pastor at the local Community Church, and throughout the book he finds ways to encourage his children to live out their faith. Similarly, EJ's mom, a second grade teacher, tells EJ in the first chapter, "I also believe that God has plans for EJ Payne that are better than even her
amazing
imagination can dream up." (p. 24) I found the Christian aspect of the book to flow fairly well with the story. The family's Christianity never came across as forced or fake, and they definitely weren't a stereotypical perfect Christian family. I found it refreshing to find a Christian family portrayed as so normal and quirky.
Lauren particularly enjoyed the scenes where EJ blocks out reality in favor of the more exciting scenario she imagines. In addition, EJ's journal entries in each chapter have inspired Lauren to write in her own diary.
The publisher recommends
Diary of a Real Payne
for 8-12 year olds. The subject matter would definitely appeal to students in that age range, especially girls. I recommend it as a read-aloud for children in the lower end of that range. Strong readers may be able to read it independently, but the writing style made it a bit more challenging to read than I initially thought. When I calculated the reading level of a few passages, it scored at a seventh or eighth grade level. (The picture below shows Lauren reading a paragraph of a diary entry before she handed the book back to me to read the rest of the chapter.)
Lauren and I definitely enjoyed reading about EJ Payne's adventures, and I suspect that Lauren will be looking forward to the release of the next book in the series. It's rare to find a entertaining book at this level that portrays Christian values in an admirable but not overly sweet manner, and
Diary of a Real Payne
does that well.
Diary of a Real Payne Book 1: True Story
is available in paper back for $4.49.
Book 2: Church Camp Chaos
is due to be released March 2014.

©2009-2013 Through the Calm and Through the Storm. All rights reserved. Photos and content may not be reproduced. http://throughthecalmandthroughthestorm.blogspot.com