When I look at my iTunes library, I can see that it's weighted heavily towards Christian music. One of the groups that claims the most space on my iPod is the Zoe Group.
I first heard a Zoe CD about eight years ago when Tim brought one home from a retreat he had gone to with the worship team at our new church in Fairfax, Virginia. I listened to that CD a lot that year, especially that winter when I was driving back and forth to visit Lauren in the NICU.
Over the years, our Zoe collection grew. They sing more than 10 percent of the songs on my iPod, more than 200 songs off of at least 15 albums. (Although now that I'm looking at it, I'm pretty sure there's at least one CD that never got imported into iTunes.)
In a few weeks, I'll get the opportunity to enjoy Zoe in a whole new way. The Zoe Group is holding a worship conference in Nashville in October. Tim's been to Zoe conferences before, and he's always come back sharing all sorts of new music and a new excitement for worship. I'm thrilled to be able to join him this year.
This year's conference,
Here with Us
, is focused on Advent. I can't wait to spend a weekend learning new songs and worshipping with several hundred fellow believers. I'll be bringing home a copy of their new CD, too.
This post about the Zoe Group finishes this round of Marcy's
Blogging through the Alphabet challenge
. If you're interested in joining the fun, another trip through the Alphabet starts in October.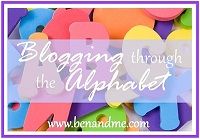 ©2009-2013 Through the Calm and Through the Storm. All rights reserved. Photos and content may not be reproduced.
http://throughthecalmandthroughthestorm.blogspot.com