I was immediately interested in the Understanding Child Brain Development DVD from
The Family Hope Center
. Lauren started early intervention therapies within a few weeks of being discharged from the NICU, and she still continues with both occupational and physical therapies. Brennan has been in occupational therapy on and off for the past five or six years. According to what I saw on The Family Hope Center website, I had high hopes that I would find some concrete suggestions to use at home.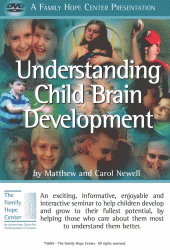 The DVD itself is a recording taken from a live seminar and lasts a little more than two hours. The audio and video quality was acceptable, but I was definitely thankful that I could download the power point slides separately so that I could read (and refer back to) the material.
The research on brain development that was presented was very informative, but I found it also to be a bit depressing. The beginning of the seminar talked about things that can cause neurodevelopmental problems -- things like c-section births and babies spending too much time on their backs. Obviously, I cannot change the way Lauren was born (emergency c-section) or the fact that she spent the first six weeks of her life lying on her back in the NICU. I've always been more interested in thinking about "where do we go from here" as opposed to "how did we get here."
I became more interested in the presentation when they started talking about ways the brain processes information and how thinking skills are related to motor skills. I believe it was in this section that they talked about children who get traditional therapies (OT, PT, Speech) but don't make significant progress. Some of these children may get a total of five or six hours of therapy a week. Matthew Newell, director of The Family Hope Center, asks if we'd expect our child to become a concert musician or professional athlete with only five or six hours of instruction and practice per week. I've long thought that I need to put more emphasis on home therapy activities instead of just taking Lauren to her scheduled sessions with professional therapists. The Family Hope Center works from a belief that families can be the best therapists for their children.
The Family Hope Center program offers a team approach that helps a family create an effective therapy system. The DVDs talked a lot about what families learn about their child when they seek help at their facility in Norristown, PA. They briefly talk about some of the therapy options that might be helpful for children with brain development difficulties. Many of these options are considered non-mainstream, especially for a parent that has spent many hours (months) in traditional medical facilities. Often alternative therapy ideas don't mix well with a traditional medical approach. Due to her medical history and the traditional medications that she depends on, I'm not interested in going down an alternative medicine path.
The last 20 minutes of the DVD did contain some ideas that could prove to be useful for any children. These suggestions include increasing the amount of water a child drinks (as opposed to drinking juice or other drinks), improving the child's diet (more fresh fruits and vegetables), and reducing electronic usage. At the same time, I do have to think that some of these changes would be much easier to implement if they were undertaken as part of a program that supports the families along the way.
©2009-2013 Through the Calm and Through the Storm. All rights reserved. Photos and content may not be reproduced. http://throughthecalmandthroughthestorm.blogspot.com