The other day I overheard Lauren asking Addison and Brennan, "Where's Voldemort?" I was puzzled until one of the big kids responded, "I think you mean Vermont." They were playing 10 Days in the USA.
10 Days in the USA is a game that I bought a few years ago with sneaky educational motives in mind, and it's turned out to be one of the most often requested games. In fact, we recently took it along on our vacation so that we could have something fun to do in the evenings.
The goal in
10 Days in the USA
is to collect tiles that will form one continuous trip. One each turn, you draw one tile and discard one. You can use the map on the game board to help figure out possible routes. The first person to create a 10 day trip is declared the winner. (And in our house,
the winner cleans up
.)
Here is one winning hand:
Starting in Delaware, I walked to New Jersey. (You can walk between any two adjoining states.) Then, I drove through New York to Massachusetts. (To drive between states, you have to go through one, and only one, other state.) I flew from Massachusetts to New Mexico. (A plane only connects states that are the same color as the plane tile.) Then I walked to Oklahoma and Texas. Finally I drove through New Mexico to Arizona. Ten Days in the USA.
We have so much fun playing 10 Days in the USA that I'm considering some of their other editions, perhaps 10 Days in Europe or 10 Days in Asia. What I'd really like to see is 10 Days in the Middle East because I need to brush up on my Middle East geography.
My friend Erica at "Be the One" is hosting a
Family Game Night
link-up, and I'm adding one of our favorite games. I'm also sharing this post with Marcy's
Blogging through the Alphabet
challenge.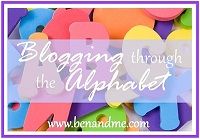 ©2009-2013 Through the Calm and Through the Storm. All rights reserved. Photos and content may not be reproduced.
http://throughthecalmandthroughthestorm.blogspot.com