1. This week was the long-awaited Tucson Girls Chorus summer camp week. Addison's group started early Thursday morning, and Lauren got to go this morning. She was so excited that I heard her wake up just after five and she was getting dressed as soon as her clock said she was allowed to get up (6:00). She'll be so thrilled to wear her new t-shirt tomorrow night and sing with all the big girls.
2. Lauren learned how to swallow pills this week. She started with Nerds candy, moved on to Tic Tacs, and then finally tackled her daily medicines. This morning she swallowed all three of the capsules without any problems.
3. All three of the kids went to the dentist this week. Brennan's hygienist recommended that I put his toothbrush and toothpaste in the shower. Teenage boys tend to take long showers, and they might as well do something useful while they're wasting water.
4. Brennan and I tried to build a replica of an Iroquois Longhouse to go along with his history curriculum. Since the gumdrops had peanut warnings on the package, we tried to use mini starburst. It didn't quite work out the way we had hoped.
5. I wrote four product reviews this week. I hadn't realized that all of them were due at the same time. I look forward to having more blogging time that isn't spent on reviews next week. I need to share about our latest read-alouds, our back-to-school plans, and Brennan's merit badges. First Day Photos is coming up soon, too.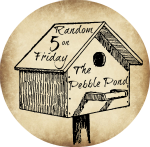 I enjoy sharing five random thoughts on Fridays. If you'd like to join the fun, you can either click on the "Random 5 on Friday" button above or visit
The Pebble Pond
.
©2009-2013 Through the Calm and Through the Storm. All rights reserved. Photos and content may not be reproduced. http://throughthecalmandthroughthestorm.blogspot.com