1. I put gas in my car at 5:00 yesterday morning. I've driven 243.5 miles since then, and none of it was highway driving. No wonder it feels like I haven't gotten much done this week.
2. Addison got to volunteer at
Oh My Glee!
camp that's run by some of the people with the Tucson Girl's Chorus. She was in high heaven because the whole week focused on 80s music. Unfortunately, the kids didn't always seem to share her enthusiasm and she complained more than once that they were making "Living on a Prayer" sound like something sung at a funeral.
3. Meanwhile, Brennan went to
Apple camp
for two sessions this week. The focus was on movie making, and he teamed up with one of his church friends to make a really awesome movie trailer. They all got free t-shirts and cool thumb drive bracelets, too.
4. We have clear blue skies in Arizona for most of the year, but this week we've had clouds nearly every day. The blue sky looks even prettier when it's contrasted with bright fluffy white clouds, and sunrises look more beautiful when the orange sunlight is reflecting off of a layer of clouds.
5. I didn't take any pictures worth sharing this week. I guess you'll have to take my word when it comes to pretty blue skies and gorgeous sunrises.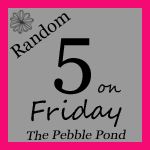 I enjoy sharing five random thoughts on Fridays. If you'd like to join the fun, you can either click on the "Random 5 on Friday" button above or visit
The Pebble Pond
.
©2009-2013 Through the Calm and Through the Storm. All rights reserved. Photos and content may not be reproduced. http://throughthecalmandthroughthestorm.blogspot.com