It's been a while since I've participated in Think Back Thursday, but I remembered that I have some older pictures that fits this week's purple theme.
The pictures were both taken on World Prematurity Day, November 2011. The top picture is of me, Addison, and Lauren, and the bottom picture is of my sister holding my niece. If you'd like to, you can read more about
Why We're Wearing Purple
on the post I wrote nearly two years ago.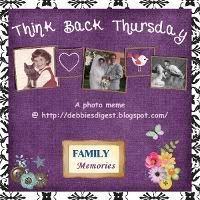 ©2009-2013 Through the Calm and Through the Storm. All rights reserved. Photos and content may not be reproduced. http://throughthecalmandthroughthestorm.blogspot.com