I have heard of Classical Conversations for years, but only in the context of their coop classes. Recently I learned that they offer materials for homeschoolers that don't participate in a CC Community.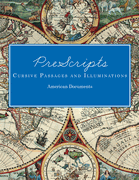 Classical Conversations
publishes a series of copywork materials called
PreScripts
. The idea behind these products is that the student will learn to imitate good writing by copying the words that other people have written.
I chose the
PreScripts Cursive Passages and Illuminations
workbook to use with Brennan. It contains more than sixty passages taken from American Documents and speeches. Each passage is written in traditional cursive writing with space for the student to copy the words underneath each line.
In addition to focusing on passages to copy, this book also takes a look at illuminated letters. Each passage begins with an illuminated letter and the student has an opportunity to practice creating their own illuminated letter on the facing page.
I was particularly impressed with the passages chosen to be included in this book. This book includes passages from the most famous American Documents, such as The Declaration of Independence or The Consitution. It also includes passages from documents that I wouldn't have thought to read in their original form, such as the decision in
Brown v. Board of Education of Topeka
(1954). The speeches included range from obvious choices such as Lincoln's "Gettysburg Address" and Frankin Delano Roosevelt's "Pearl Harbor Address" to ones that I wouldn't have necessarily thought of such as Jefferson Davis's "Inaugural Address" and Ronald Reagan's
Speech at Brandenburg Gate
.
My only complaint about this workbook is the way that the pages are set up. Brennan sometimes struggled to copy the entire line in the allotted space and would end up squeezing words in the margin. I wonder if it would work better for him if the entire passage was written on the top half of the page and then his copy could be written on lines at the bottom of the page.
I have sometimes thought about using famous quotes for copywork, but I've never taken the time to choose passages and collect them into assignments. Classical Conversation's PreScripts books make it easy to add copywork to our school days. With sixty-seven pages of copywork assignments, this book could easily last a whole year. I'll likely assign two copywork pages per week and use the illuminated letter pages as optional activties other days of the week.
PreScripts Cursive Passages and Illuminations
is intended to be used with students ages 9 through high school. I think it would fit a student that has been practicing cursive handwriting for at least a year. The workbook costs $12.99. We are using it as a consumable product, but the publisher suggests in the introduction that it could also be used as a non-consumable resource (using separate notebook paper).

©2009-2013 Through the Calm and Through the Storm. All rights reserved. Photos and content may not be reproduced. http://throughthecalmandthroughthestorm.blogspot.com