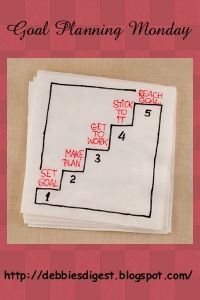 Apparently I failed to interpret last week's calendar correctly when I set goals for the week. I saw the week's activities fit neatly into assigned spots, but I failed to allow for the driving time to/from all of those activities. I feel like I hardly spent any time at home last week, and much of the time I did have at home was spent paying attention to Lauren who had nicely tagged along nearly everywhere I went.
I accomplished a few of my goals from last week. I've ordered nearly all of the materials for next year. (I have to call Apologia back later this week because the newest edition of Addison's Advanced Biology materials won't be ready to order for a few more days.) I also found good deals on all of the school supplies that I like to stock up on -- pens, notebook paper, sharpies, post-it notes, crayons, a case of printer paper, etc. Some of the work for the beginning of the year has been printed, but there's still some that's waiting for new printer ink to get here on Wednesday.
Unfortunately, my primary goal from last week was only half accomplished. I removed most of the unnecessary books from the shelves in the schoolroom. Unfortunately, I didn't get the books put away and the room now looks like this:
Actually, it looks a whole lot worse in person than it does in the pictures.
My big goal for this week is to get all the books put away either in boxes or neatly on the shelves. Right now the room is such a big mess that I can't imagine trying to concentrate on schoolwork in there.
If I can get the room back into shape by this weekend, I should have some free time on Saturday to spend sewing. With some luck (and a lot of work), I'll be able to share some inspiring pictures of our organized schoolroom and some pictures of a new dress for Lauren when I post next Monday.
©2009-2013 Through the Calm and Through the Storm. All rights reserved. Photos and content may not be reproduced. http://throughthecalmandthroughthestorm.blogspot.com