Lauren and I had a wonderful "Mommy and Me" camp last week. We "baked" jello, read books, got haircuts, did a few craft projects, and went on a few field trips. I'll have to ask her what her favorite part of the week was. With the exception of the day where we spent seven hours in the car driving back and forth to church camp, we both did a good job of keeping the electronics under control. (And after the day when she played iPad for seven hours, I remembered why I need to stick to the electronics limits.)
After staying busy for most of June, I had a lazy day today. I guess it wasn't really all that lazy -- I ran 3 miles this morning, went to a doctor's appointment all the way on the other side of town, and then did my weekly kickboxing class. It felt lazy, though, because I didn't go to the Commissary like I had planned and I didn't even really fix dinner. (Don't worry -- my family didn't starve. They had a variety of meals that I kindly took out of the freezer for them to choose from.)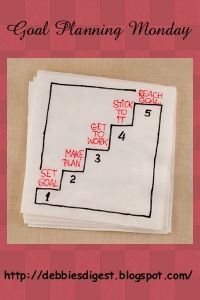 My most important goal for this week is to actually go to the Commissary and get groceries. I think everyone will appreciate having food in the house.
We only have two more weeks left of vacation so perhaps my other goal should be to enjoy the lazy days of summer while I can. This week seems like a perfect week to work on reading a new book, playing games with the kids, packing a picnic lunch for a hike in the mountains, and just enjoying a few lazy days. I'd like to do a bit more organizing around the house and to look over some new curriculum that just arrived, but I'm not going to get stressed out if that doesn't get done this week.
Even though I have lazy plans for this week, I didn't want to skip out on Goal Planning Monday. If you're planning on using the summer break to accomplish some goals, I invite you to join us in our weekly link-up at
Debbie's Digest
. It's a lot of fun, and most weeks I get quite a bit accomplished simply by writing my goals down (and then not wanting to publicly admit that I didn't make any progress).
©2009-2013 Through the Calm and Through the Storm. All rights reserved. Photos and content may not be reproduced. http://throughthecalmandthroughthestorm.blogspot.com