I took a bit of an unscheduled vacation earlier this week when Lauren spent two night in the hospital for a broken arm. It brought back memories of other broken arms and other hospital stays.
At one point, Lauren asked me if she had ever had a pink cast before. I knew that her very first cast was pink, but I couldn't remember how many others were. This afternoon, I hunted through the pictures to find more pink cast pictures.
Fall 2008:
This time it was a pink cast on her left arm. She's wearing a hard splint/brace made for her right arm because it had been in a cast up until she broke her left arm.
Summer 2013 (leaving the hospital yesterday):
Lauren had a bit more pain than expected today, but she's now sleeping peacefully. I suspect that the broken arm will only slow her down for a few days.
Since it's Thursday and I've hunted through old pictures to share, I'm going to link up with the Think Back Thursday posts at
Debbie's Digest
. Hopefully Debbie will forgive me for not playing along with this week's patriotic theme.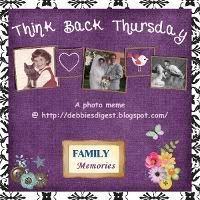 ©2009-2013 Through the Calm and Through the Storm. All rights reserved. Photos and content may not be reproduced. http://throughthecalmandthroughthestorm.blogspot.com