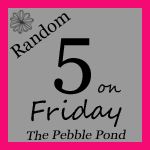 1.
Eighteen years ago
I was close enough to feel the blast from the bombing of the Murrah Federal Building in downtown Oklahoma City.
2. I started doing laundry on Monday morning, and it's still not all put away. Some weeks are like that.
3. Brennan spent much of his free time this week working on this cool way of displaying his Nerf guns. (Is there any way I count that as an educational activity for the week?)
4. If you dehydrate onions for a camping meal, it's a good idea to put the dehydrator outside. Even then, the smell is awfully strong.
5. Today is Blue and Green day for Donate Life America. Lauren and I picked up a Donate Life temporary tattoo when we were at the hospital this week, and she'll be wearing it proudly. I'd like to offer a very special thank you to everyone who has registered to be an organ donor.
©2009-2013 Through the Calm and Through the Storm. All rights reserved. Photos and content may not be reproduced. http://throughthecalmandthroughthestorm.blogspot.com