Usually I wait until we finish a project before I show it off on my blog. Our latest review product is only partway finished, but I couldn't wait any longer to share it.
Home School in the Woods
specializes in hands-on history materials, and we've been engrossed in their
"The 20th Century in America" Lap Pak
for the past several weeks.
I downloaded the lap pak materials and found it fairly easy to navigate among the individual pages to get everything printed correctly. I found the instructions to be very clear in terms of printing and assembling everything, and I especially appreciated the diagrams showing where to attach all of the mini projects to the final lapbook. The downloaded materials also include a text booklet containing much of the background information needed to complete the assignments.
Brennan (6th grade), Addison (9th grade) and I worked together on the projects for our lap paks. For some of the sections, there were lengthy passages to be read out of the text booklet. These sections provided great note-taking practice for both students. Addison took her notes and wrote a paragraph summarizing the information, and Brennan used his notes to dictate key points for me to write down in the project booklet.
As we worked through different projects, we appreciated that we weren't doing the same thing every day. The mini booklets in this lap pak are each carefully (and creatively) designed to reflect the topic at hand. We not only studied a different topic each day, we created a different final project each day. Addison particularly praised the wonderful graphics that were so much fun to color.
There are 22 different projects included in the lap pak, each touching on a different aspect of American Life in the 20th Century. So far, we have studied World Wars, political events, social movements, disasters, medical advancements, and more. This week it looks like we'll be covering architecture, literature, music, and sports figures. Many of the topics have enough information in the text booklet, but we often found ourselves using the basic text as a jumping off point for further exploration using either online searches or materials I already had on our bookshelves.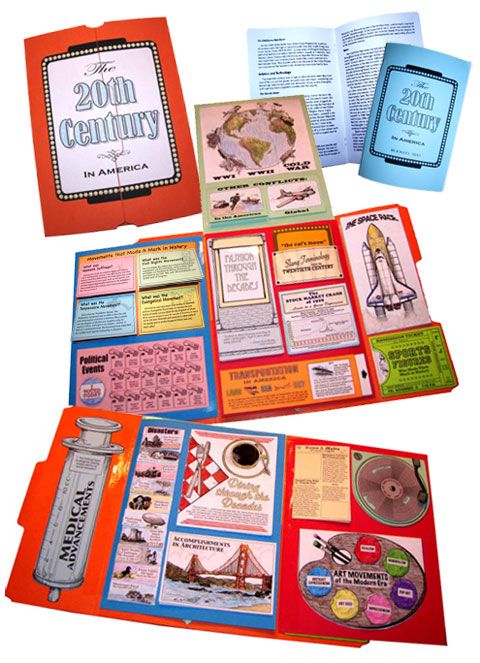 We look forward to finishing the project and having all of the assignments added to our lap books (as they are in the following sample picture from Home School in the Woods).
Home School in the Woods recommends using these materials with third through eighth graders. Based on our family's experiences we'd recommend waiting until late elementary or middle school to begin this project. Addison, my ninth grader, was perhaps the person that loved it most, and it was a great supplement to her high school American History course this year.
"
The 20th Century in America" Lap Pak
from Home School in the Woods costs $21.95 for the downloadable version and $22.95 (plus shipping) for a CD containing all of the pdf files.
Rarely am I as impressed with a review product as I have been with this Lap Pak from Home School in the Woods. The creative activities coordinated well with our regular curriculum. More importantly, these projects inspired us to dig deeper into the subject matter and explore topics in greater depth than we normally do.
Addison lists this product as one of her all-time favorite review products, and my enthusiastic recommendation too.

©2009-2013 Through the Calm and Through the Storm. All rights reserved. Photos and content may not be reproduced. http://throughthecalmandthroughthestorm.blogspot.com