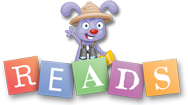 I'm certain that I'm not the only mom that fails to get an intelligent answer from some of my children when I ask them about what they are reading. The conversation sometimes goes like this:
Mom: "What are you reading during our quiet reading time?" (This is an opportunity for them to pick what to read.)
Darling child: "A book."
Mom: "Can you tell me anything about the book? Is it interesting?"
Same darling child: "I uh oh." (I'm pretty sure that's code for "I don't know")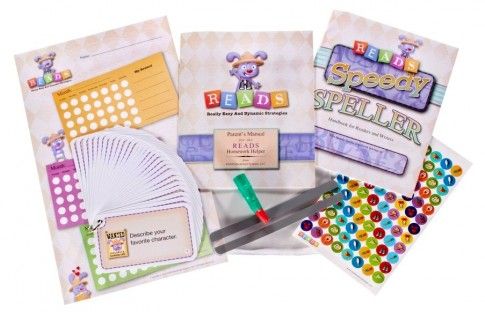 Elaine Meyers, a certified reading specialist, founded
EGM Educational Systems, LLC
and developed the
READS Parent-Child Reading Comprehension System
to help parents like me. The READS system gives parent the tools they need to interact with their child and discuss what the child is reading independently.
The READS materials are recommended for children in first through fourth grade. In our experience, they are most useful once a child can read independently.
The toolkit includes a parent manual, 30 question cards, rewards charts w/ stickers, a magic finger, a reading guide strip, and a Speedy Speller booklet.
Lauren, our first grader, tried both the magic finger and the reading guide strip. She perhaps needs one of them to help keep track of her place on the page. Unfortunately, she was frustrated with having to use them (or perhaps with having to do it mommy's way). If Brennan had a magic finger when he was learning to read, I think it would have been a big hit -- a finger that looks like it belongs to a troll would have thrilled him.
We all thought that the best part of the program was the question cards. Lauren does not reach much independently, but I was able to use them during her regular reading time. It helped me think of better questions about the material than I normally do.
I found that the question cards were useful for all of my students. One afternoon, I had the cards with me at an appointments and asked Brennan a question about an article he was reading in his Boy Scout magazine. At lunch one day, we all talked about the Harry Potter books and tried to answer the following question card:
I have saved the rewards chart and the Speedy Speller booklet until Lauren gets a little more confident in her reading ability. I think the rewards chart makes more sense as a way of tracking independent reading than it does to use it right now when we're still reading together. The Speedy Speller booklet will be useful when she is writing more and is ready to focus on the correct spelling of high-frequency words.
The
READS Parent-Child Reading Comprehension
system helped me discuss the books that all of my children are reading. I even started to get answers that were significantly more intelligent than "I uh oh." It is available for $19.95 and is most suitable for elementary students that are reading independently. Since the materials are not tied to any specific curriculum, it is equally suited to both homeschoolers and parents with children in a traditional school setting.
Disclaimer: I received a READS Parent-Child Reading Comprehension System as a member of the 2012 TOS Homeschool Review Crew, and I received no other compensation. In return, I agreed to give an honest review of the materials and how they worked for my homeschool family. I am disclosing this in accordance with FTC regulations.

©2009-2013 Through the Calm and Through the Storm. All rights reserved. Photos and content may not be reproduced. http://throughthecalmandthroughthestorm.blogspot.com