For as long as I can remember, my mom sewed. She taught me a few basic sewing skills, but I've never been able to do much. In fact, up until recently, I've been locked in an ongoing personality conflict with my sewing machine. I managed to do a few simple things, but there was no way that I could teach Addison to sew.


When we heard about
Modesty Matters
and their
You CAN Sew!
curriculum, we were both excited. Addison practically begged me to submit an interest form for the review, and I was really hoping that I could learn some sewing skills too.
You CAN Sew!
is a very accurate title for the program. The instructions and video clips start at the very basics of sewing knowledge and move step-by-step through the basics.
Addison found the lessons very thorough. The first lessons started by discussing very basic sewing knowledge such as parts of a sewing machine, necessary sewing supplies, fabric choices, and color selection. Each lesson has a detailed video to watch and accompanying text in the binder to read. Many lessons have homework assignments to either practice a specific skill or to go purchase the appropriate supplies for the upcoming projects.
Addison easily sewed a pincushion without any help from me and only needed a little assistance for the apron project. All of the pattern pieces are contained as a pdf that needed to be printed and assembled -- a task that was easier with extra hands to help match everything up and tape it into place.
Addison is about half-way through the program. Her next project is an A-line skirt and the final exam (so to speak) is a basic dress. At the end of the program, I am confident that Addison will have solid intermediate level sewing skills.
Not only has this program given Addison the tools that she needs to sew, it has also inspired both of us to take on more projects. Addison has already made two simple capes to use as Halloween costumes this year. As for me, I picked out a simple pattern online and purchased the fabric I need to make a top for Lauren. If I run into too many problems, I'll have to go back and watch more of the Modesty Matters lessons to fill in the gaps in my sewing knowledge.
The complete
You CAN Sew!
program is available from Modesty Matters for only $159. They also offer a quilting version of
You CAN Sew!
-- more information on both programs can be found on the Modesty Matters
You CAN Sew!
page. Both programs are appropriate for ages 12 and up (including adults); younger children may be able to complete the program with adult assistance.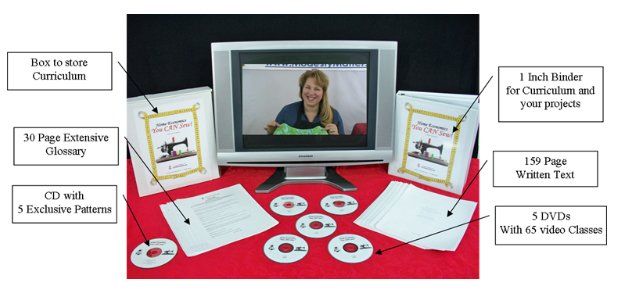 Disclaimer: I received You CAN Sew! as a member of the 2012 TOS Homeschool Review Crew, and I received no other compensation. In return, I agreed to give an honest review of the materials and how they worked for my homeschool family.