My children have been audio book fans for years. It started with a few CDs that I checked out of the library when it seemed like we spent hours on the road to various doctors appointments in Northern Virginia, Maryland, and DC. Over the years, we've built a collection of CDs. We still listen to audiobooks in the car, and most nights Lauren and Brennan go to sleep listening to audiobooks.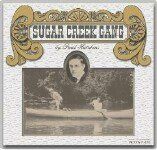 Recently, we added
Sugar Creek Gang
stories to our collection, and they quickly became favorites. Paul Hutchins wrote a series of books about the Sugar Creek Gang starting in 1939. These books were later recorded as radio dramatizations.
As soon as I started the first CD, I was taken back to a simpler time -- a time when boys played outside for hours at a time. I thought it reminded me of Leave it to Beaver, and Brennan, who had seen some of the old episodes at Nana's house, agreed.
Brennan likes this series because it is Christian focused without having any "lecture-preachy" parts. Addison elaborated by saying that it tells about "boys earnestly trying to figure out God." She remembers a line in one of the stories when a character says, "One night I slept over at Poetry's house and he talked to God like he was right there in the room" She appreciates the way the stories are told from a child's view of God and not from the perspective of an adult teaching about God.
All three of my children enjoyed listening to the Sugar Creek Gang in the car. We decided that it was most appropriate for children ages 8-12 and still entertaining for older children or adults. Lauren (age 6) is still a bit young for the series, and therefore it isn't her first choice of audiobooks.
The first volume of Sugar Creek Gang CDs contains twelve stories on 6 discs, approximately 12 hours long. There are six volumes available, and I have a feeling I'll be buying more of the stories for us to enjoy. Each volume costs $54.95, and there's a significant discount if you choose to buy all six volumes at once.
An mp3 version of the entire first story, "Swamp Robber," can be downloaded from the Beloved Books website
here
. Also, if you'd like to purchase anything from Beloved Books, they have generously offered a coupon code to share with my readers. The code
Calm-Storm-20
will give you a 20% discount on your entire purchase.
Beloved Books
specializes in wholesome literature in audio format. In addition to the Sugar Creek Gang audio CDs, they offer scripture songs, missionary stories, and more. I personally would love to hear the Jim Weiss audio version of
Carry On, Mr Bowditch
that they carry.
Disclaimer: I received Sugar Creek Gang, Volume 1 as a member of the 2012 TOS Homeschool Review Crew, and I received no other compensation. In return, I agreed to give an honest review of the materials and how they worked for my homeschool family.