The past few months, I've lamented that my first day photos didn't really portray an average day in our house. I finally got my wish and October 1st landed on just an average day.
Self portrait. Lauren did the braids in my hair, and yes, I left them in all day long, even when I took Lauren to PT and went to kickboxing.
An early morning tambourine concert.
Medicine time. The nerds are for Lauren's pill swallowing practice, in the hopes that we won't be dumping capsules into baby food for much longer.
Time to wake up the man-cub. Yes, it was that bright in their room, and he was still sound asleep.
Study time in Addison's corner of our world.
Online course about Pilgrims with Dayspring Christian Academy (review coming soon).
Lauren reading in her head. The book is above her reading level, but she'll quietly turn through the pages one by one. I don't know if she's hunting for words she recognizes or what.
Addison's new white shoes for her choir concert at the Pumpkin Patch. I really hope the ScotchGard works.
Trying one more time to pin up her dress to the correct length. I'm beginning to believe that this dress has a personal vendetta against me.
Brennan's science experiment.
The aftermath.
A visitor that snuck a ride back home from the pool.
A ladybug for my little ladybug to play with (and then to release outside).
And finally, my favorite picture of the day. Brennan was resting on the couch because his allergies were making him rather miserable for much of the morning. He managed a smile for the camera, though.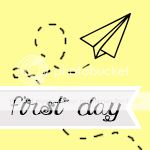 I am linking this post with all the others at
Journey to Josie
, and I look forward to sharing more pictures in November. Click the cute paper airplane button if you'd like to join us.