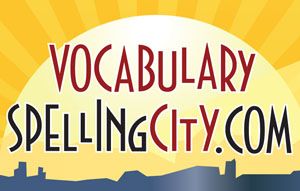 What is VocabularySpellingCity?
VocabularySpellingCity
advertises that their mission is to provide efficient game-based study of literacy skills using any word list. With a free registration, parents can add individualized vocabulary and spelling lists. The words on those lists are then used to create educational games that make learning fun. Nearly all of the activities can be printed for a student to use offline, too. A
premium membership
gives each student an individual log-in, removes the advertisements, opens premium games and activities, offers a few additional options for vocabulary skills, and allows a parent to track their student's progress.
How did I use it?
Initially, I tried to use one of the thousands of ready-to-use words lists that are already set up on VocabularySpellingCity. I found it a bit difficult to find just what I was looking for and instead switched to entering the list of words that Brennan would be studying with his regular spelling curriculum. From my teacher dashboard, I was able to assign practice activities and a test for him.
Word Search
Speedy Speller (practice)
Spelling Test
In addition to using the program to practice spelling words, I used the vocabulary games to introduce the vocabulary in Brennan's history program. Each of the chapters we read has a list of vocabulary words to review prior to the lesson. It took me just a few minutes to put them into VocabularySpellingCity so that Brennan can look over them independently.
What did Brennan think?
Brennan thought the spelling games were okay, but that some of them took too long to work through all of the words. He would rather "just do boring spelling tests every day" (aka his regular spelling curriculum).
What did I think?
I like the way that I can used VocabularySpellingCity to set up spelling tests to be done independently. I also like using the games to either introduce or review vocabulary. I can see all sorts of uses for the vocabulary games and tests -- words from his history lessons, science concepts, and even math terminology.
My bottom line:
This spelling program could be a real time saver for a parent working with multiple students at different lessons, and the vocabulary activities can be used as review practice for almost any subject.
VocabularySpellingCity offers many of their educational games for free. If you register for the free basic membership, you can even save your word lists for later use. The added benefits of a
Premium Membership
are available to parents for $29.99 per year for up to five students. VocabularySpellingCity also offers memberships for classroom teachers and schools.
Disclaimer: I received a one year online subscription to VocabularySpellingCity.com as a member of the 2012 TOS Homeschool Review Crew, and I received no other compensation. In return, I agreed to give an honest review of the materials and how they worked for my homeschool family.