When I started homeschooling eight years ago, one of the things that I was most excited about was getting to study history with my daughter. I've sometimes told the story about how I opened up a curriculum catalog to its first grade offerings and thought, "Wow! That looks like so much fun!" We started homeschooling a few weeks later. When I was in school, I studied history using rather boring textbooks that merely outlined the major historical figures and most important events. That homeschool catalog was one of the first times I had seen real books used to teach history.
History does not have to be a boring list of people, dates, and events. History is really about the stories -- the stories about real people overcoming real problems. Not only is it more fun to teach history when we study the stories, all of us remember so much more than I ever did when I was simply trying to memorize facts.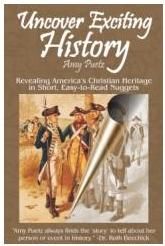 Amy Puetz, owner of
Golden Prairie Press
, loves history and loves sharing history stories. More importantly, according to her website, "she especially loves to dig for little-known stories that show God's providential hand." Recently, we've been reading parts of her book
Uncover Exciting History: Revealing America's Christian Heritage in Short, Easy-to-Read Nuggets
. This book contains 25 short chapters covering American History from Columbus to the Navajo Code Talkers in WWII.
Brennan and I have been studying Christopher Columbus in his primary history curriculum, and the corresponding chapter in
Uncover Exciting History
brought out some points that I hadn't seen elsewhere. For instance, there is no historical evidence that points to the idea that the sailors were afraid of falling off of a flat earth. I also found it interesting that Christopher Columbus's name means Christ-Bearer, especially in light of the priests he brought with him on his second voyage. One of his goals was to bring Christ to this new land.
Addison chose to read several of the chapters -- one on the Civil War (a favorite historical time period of hers) and another on the Battle of New Orleans in the War of 1812 (a lesser-known subject for her). She thought the chapter on General Lee and General Grant was good, but since she is somewhat of a Civil War buff, she claims that she didn't learn much that she didn't already know. For the Battle of New Orleans, she didn't know (or remember) any of the basic facts before reading the chapter. She was intrigued by the providential view of history shared in that chapter. The first paragraph includes the argument, "When looking at the facts, there was no possible reason for the American success except the hand of God working on their behalf." Addison wasn't sure what to think of the way America was seen as being blessed by God in these events -- that assumptions leads her to logically conclude that the British were being punished (or at the very least, viewed by God as a less-favorable than the the Americans). Looking at history from a providential standpoint led to some thoughtful discussion between us.
I'm not sure that I'd call this book an "exciting" look at American History. I was hoping that there would be lots of action so that it would draw Brennan into the stories, and I didn't necessarily find that sort of stories. Instead, I did find stories that brought out interesting, lesser known facts. The book would be very valuable in terms of adding a Christian perspective to other history studies, and I will refer back to many of the chapters as we work our way through American History this year.
Uncover Exciting History
is available from Golden Prairie Press for $11.96 (ebook), $15.16 (print), or $20 (audiobook mp3 read by Jim Hodges). Amy Puetz has also written or edited other books that would be good additions to your homeschool library. Right now, several of the books are part of her Back-to-School Sale which lasts until Saturday, September 1.
Disclaimer: I received an electronic copy of Uncover Exciting HIstory as a member of the 2012 TOS Homeschool Review Crew, and I received no other compensation. In return, I agreed to give an honest review of the materials and how they worked for my homeschool family.